Cocktails don't have to be complicated. Sometimes, you just want something easy and delicious and you don't feel like making a fuss.
That's where simple 2-ingredient drinks come in handy! They're the perfect solution to an impromptu summer party, date night at home, or even pregaming before going out for the night.
For these 2-ingredient rum drinks, all you need is a bottle of rum and a mixer. Pour over ice in your favorite glass and enjoy!
Rum & Soda
To really enjoy the taste of your rum, try it with just simple soda water. With no other sweetness or flavors to get in the way, you can really experience the flavor of the spirit—especially if it's an aged or spiced rum.
This 2-ingredient drink is super easy to make, simply pour 2 ounces of your favorite rum into a tumbler filled with ice and top it off with club soda. Add a slice of lime if you have one.
If you have a flavored rum to hand like Bacardi Lime for example, this can also work very well with a plain soda.
Rum & Coke
I had to include this drink, of course. Rum and coke is one of the most classic rum drinks, and for good reason. It's so simple, yet delicious.
This drink is perfect if you have a sweet tooth—you'll get the sweet flavor from the cola plus just a bit of tangy bite from your rum.
The good news is it works with any type of rum too: aged, spiced, coconut... just be careful not to go too heavy on the cola or you'll overpower your rum.
Bonus tip: If you 1/2 a lime handy, you can squeeze it into your glass and you have a Cuba Libre!
Cuba Libre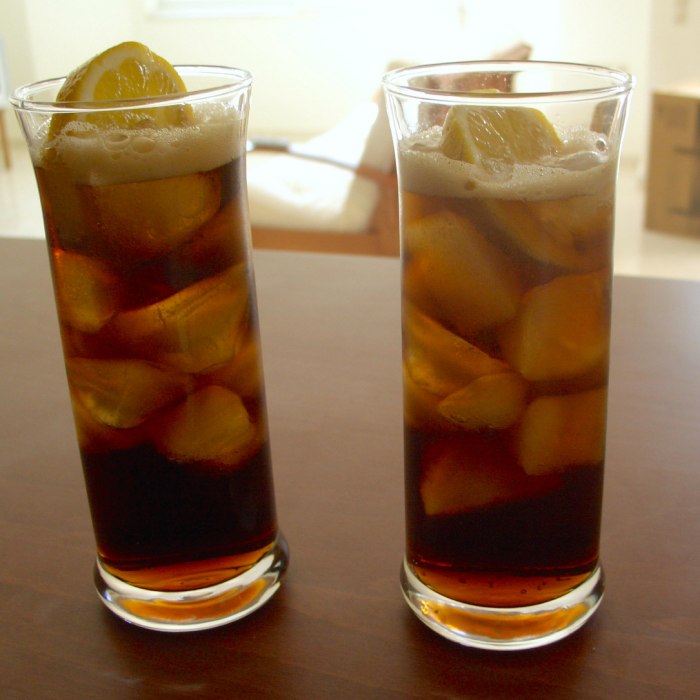 Ingredients
2 oz Light rum
Juice of 1/2 Lime
Coca-Cola
How to make it
Build all ingredients in a Collins glass filled with ice.
Garnish with lime wedge.
Rum & Lemonade
Everyone knows about Coke, but did you know lemonade also makes an excellent 2-ingredient cocktail when mixed with rum?
Rum and lemonade is quick, easy and delicious. The refreshing combo tastes much better than either part on its own. Sweet but not too sweet, lemonade's citrusy flavor is something you can't get enough of in the summer heat!
Any lemonade will work here, but I especially love the sweet-tart flavor of a good homemade lemonade.
Rum & Apple Juice
A lesser known option, but hear me out: apple juice makes an awesome rum mixer—especially around fall or wintertime. You can even serve it hot for a different kind of warming winter cocktail.
The crisp taste of apple cider is just what you need when mixing with a spiced rum. Add a pinch of cinnamon for an even more festive flavor.
Rum & Pineapple Juice
A simplified version of many a tropical cocktail, this drink is perfect for hot summer nights. You get all of the flavor you love from rum mixed with sweet pineapple juice.
The best part is it's so easy to make, just pour your fruit juice over ice and add a shot of any kind of rum—that's it!
Rum & Coconut Water
For a lighter yet still tropical rum drink, try a mix of coconut water and rum. Coconut water has a natural but subtle sweetness that makes it perfect for mixing with your favorite rum.
Another easy drink, just pour some over ice and add one shot of dark or light rum, depending on what you prefer. Stir well and serve!
Coconut water is also more hydrating and less sugar-packed than many other fruit-based options, which means you can drink it without worrying about loading up on too many extra calories.
Rum & Flavored Seltzer Water
If you don't have a flavored rum but still want a little hint of something else in your drink, consider adding a flavored seltzer like LaCroix or Bubly to your rum.
Flavored seltzer is delicious, carbonated, and lightly flavored mixer that comes in tons of unique and interesting flavors (lemon, mango, coconut, grapefruit... the list goes on). This lets you get creative with your drink while still only using 2 ingredients.
The flavors are usually subtle enough that you can still taste the rum, but they also provide a yummy new way to experiment while also adding zero calories.
Rum & Ginger
There are a couple different ways you can mix rum with ginger. If you have ginger beer (and ideally a lime wedge) you can make a classic Dark and Stormy. Just add some ice, the ginger beer, and a shot of dark rum.
Dark and Stormy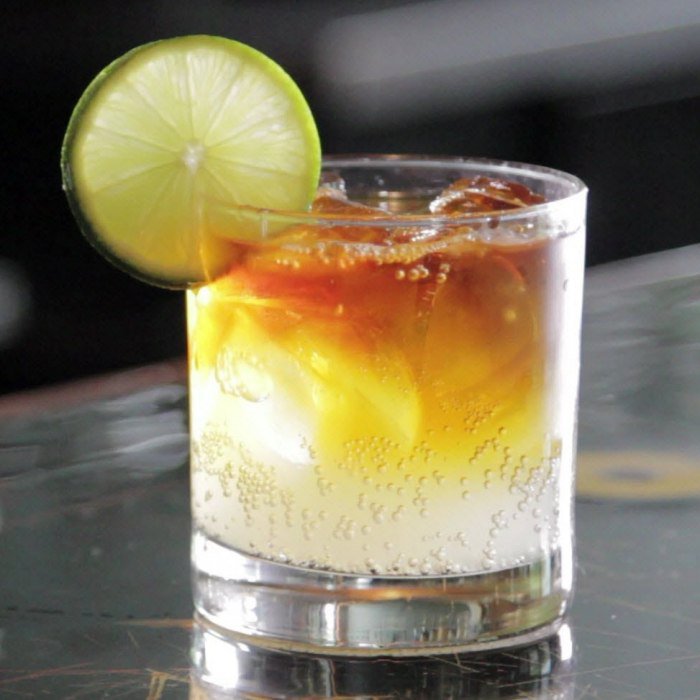 Ingredients
5 cl Dark Rum
10 cl Ginger Beer
How to make it
In a highball glass filled with ice add 6cl dark rum and top with ginger beer.
Garnish with lime wedge.
This drink is a great option if you want a sweeter cocktail—the flavor combo here is deliciously spicy, but with even more bite from the lime and rum.
If you have ginger ale, this can work as well but is typically better with light rum. This will give you a lighter flavor that's drier and a little less sweet than the Dark and Stormy, but still refreshing and delicious.
No matter which mixer you use though, ginger is both spicy and slightly sweet—making it an awesome complement to your rum!