The Cosmopolitan (affectionately called a Cosmo) is a delicious cocktail traditionally made with vodka, triple sec, lime, and cranberry juice. The Cosmo's first known recipe stems from 1934 in the book Pioneers of Mixing at Elite Bars.
If you're a fan of this classic cocktail, here is a list of similar cocktails you should definitely try.
1. Kamikaze
Some consider the Cosmopolitan cocktail an adaptation of the Kamikaze, but the drinks are in fact separate concoctions. Either way, it would make sense that we start with this cocktail. The Kamikaze is simply a Cosmo without the cranberry juice.
There are stories that this drink originated in America during the 1970s disco scene. However, it most likely originated in Tokyo during the American occupation of Japan after World War II.
This sweet and tangy cocktail blends equal parts of vodka, triple sec, and lime juice. It is served straight up in a cocktail glass. Enjoy this cocktail during the warm spring and summer months as a great refresher in the heat.
Kamikaze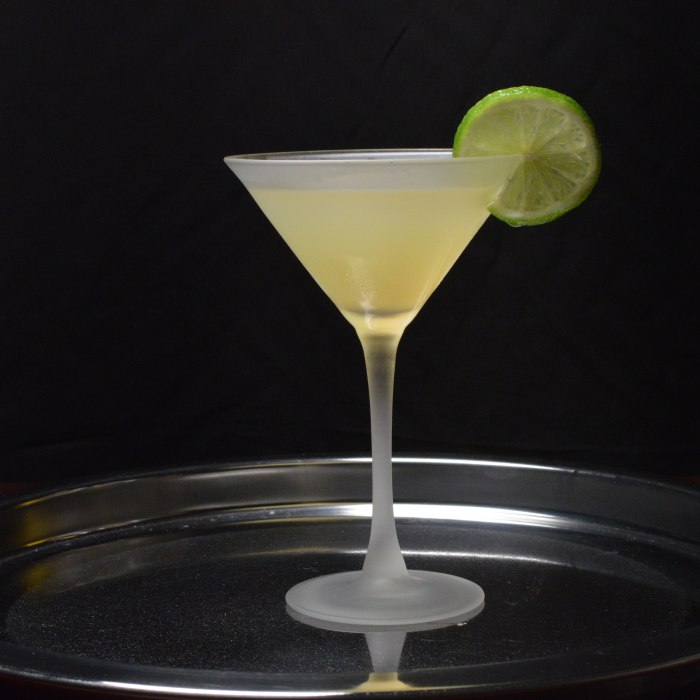 Ingredients
1 oz Vodka
1 oz Triple sec
1 oz Lime juice
How to make it
Shake all ingredients together with ice.
Strain into glass, garnish and serve.
2. The Samantha Cosmopolitan
The original Cosmopolitan is such a simple cocktail that there have been hundreds, if not thousands, of variations of it. The Samantha Cosmo is one of those spin offs that hits the mark when it comes to variations.
By substituting the vodka with tequila and the triple sec with coconut simple syrup, you'll create a sweet, fruity drink that gives a tropical twist to the classic cocktail.
Named after Samantha from Sex and the City, this cocktail packs the sass and class that you'd expect from such a character. Enjoy this drink served straight up in a cocktail glass. Rooftop views are encouraged, but not required.
3. The Cosmorita
For a more traditional alternative to the Samantha Cosmo, try the Cosmorita. This drink uses the exact same ingredients as the standard Cosmo, except it substitutes tequila in for the vodka.
This drink packs a punch with the smoky, sweet flavor of dark tequila and mixes nicely with the triple sec. While this cocktail is traditionally garnished with lime, you could try using orange instead to bring up the flavor of the triple sec.
Unlike the Cosmo, this cocktail is strong and full. Enjoy this drink as an after dinner treat and let the tequila warm you in chilly weather. The Cosmorita, though fruity, feels nice during cold months.
4. West Side
A cross between a Cosmo and a Sidecar, the West Side cocktail combines vodka, simple syrup, mint, club soda, and a lot of lemon juice. Because vodka is a neutral alcohol it's the other ingredients within this drink that are the true stars.
The simplicity of this drink, combined with the ease in which to make it allow for it to be a perfect recipe for those hot summer days outside. It's served chilled and the mint provides a refreshing taste that will have you asking for more.
This cocktail is not a classic cocktail but a modern one. You can find this served at Employees Only Bar in New York City.
5. Lemon Drop
Another vodka based fruity cocktail to try if you like Cosmos is the Lemon Drop. This cocktail is a classic that dates back to the 1970s. The traditional recipe calls for vodka, triple sec, simple syrup, and lemon juice and is a perfect drink for a hot summer day.
The Lemon Drop is native to Henry Africa's Fern Bar in San Fransisco, California. While originally served straight up in a cocktail glass, modern variations of the recipe have altered the number of ingredients and the drink is now most often prepared as a shooter.
The Lemon Drop is a refreshing cocktail that can be enjoyed at any time, however, it is best enjoyed with a lighter lunch fare. A wedge salad and smoked salmon would be a perfect food pairing for this cocktail.
Lemon Drop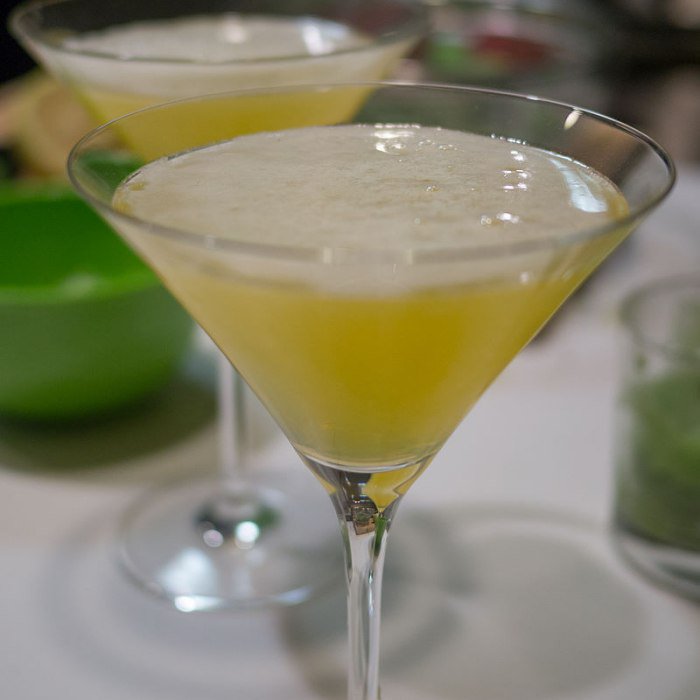 Ingredients
1 1/2 shot Absolut Vodka
1 1/2 shot Cointreau
Juice of 1 wedge Lemon
How to make it
Shake and strain into a chilled cocktail glass rimmed with sugar.
6. Screwdriver
No list of comparative cocktails to the Cosmo would be complete without the O.G. vodka based cocktail, the Screwdriver. A mix of equal parts vodka and equal parts orange juice, the Screwdriver is a class cocktail that is simple enough for anyone to make at home.
There are written articles about the drink dating back to the 1940s and although there are a few different origin stories the most plausible one is that the drink was created in the Middle East.
The story is said that American oil rig workers would put Russian vodka in their orange juice in the mornings. Without spoons, however, the workers would use their tools as a make-shift stir stick. Hence the Screwdriver was named.
Another drink that you can enjoy with just about anything, the Screwdriver makes a great brunch cocktail. The orange juice in the cocktail punches up the flavorless vodka and provides a refreshing drink, over ice, for a late morning pick up.
Screwdriver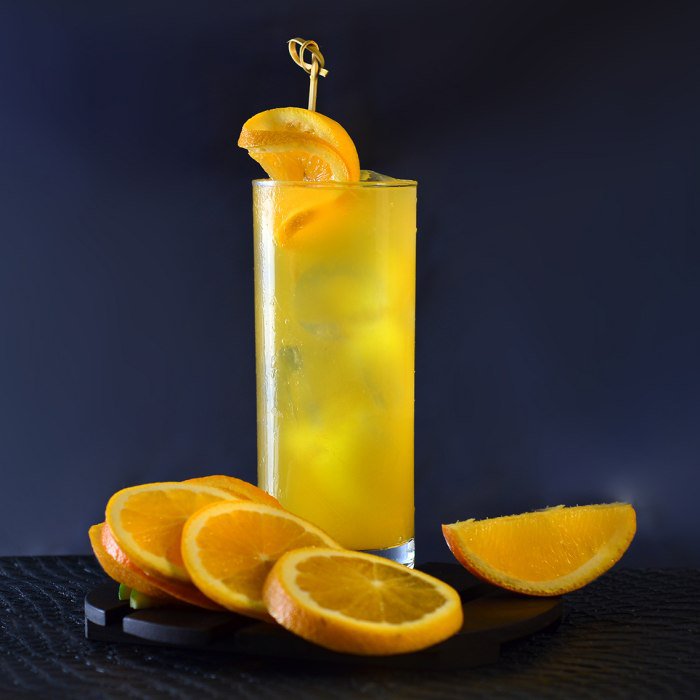 Ingredients
How to make it
Mix in a highball glass with ice.
Garnish and serve.
7. Moscow Mule
Another cocktail that skips cranberry juice is the Moscow Mule. This classic cocktail includes vodka, ginger beer, mint, and lime juice. This cocktail is served strained, on the rocks, and in a copper mug, to keep the drink as cold as possible.
With the coolness and overflow of ice throughout this drink, having it in the mid-day summer sun is a great way to cool down. The mint is refreshing and kicks the drink up a notch with its addition.
The Moscow Mule, though a Russian city in its name, was created in Manhattan, New York in the late 1940s. Word is that a bartender needed to clear back stock in his bar's storage room, including vodka and ginger beer.
The popularity of the drink shot up after that and is one of the classic cocktails in which many different variations have been created. Some of the 'mule' variations include:
Kentucky Mule
Oslo Mule
Tuscan Mule
Mezcal Mule
Berlin Mule
Manila Mule
Mississippi Mule
Mistletoe Mule
London Mule
New Orleans Mule
Southern Mule
Prickly Pear Mule
French Mule
Moscow Mule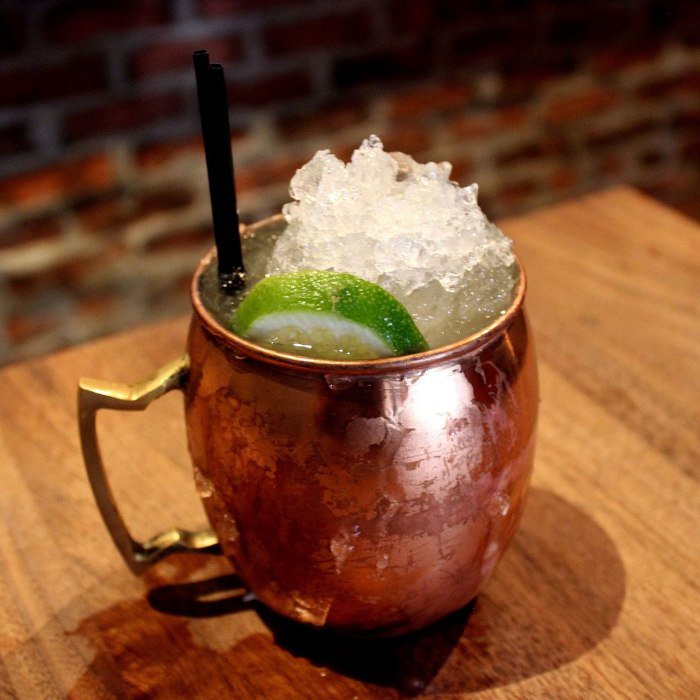 Ingredients
2 oz Vodka
2 oz Lime juice
8 oz Ginger ale
How to make it
Combine vodka and ginger beer in a highball glass filled with ice.
Add lime juice.
Stir gently.
Garnish.