Whether your enthusiasm for the classic Negroni is starting to sour, or you simply want to expand your repertoire and make a sideways detour into some similarly flavored Negroni-inspired cocktails, you'll be happy to hear that there is a variety of comparable companions on offer.
Here are my top 11 favorite Negroni cocktail alternatives. Hopefully, they will inspire you to order something different at your local cocktail bar, or even to mix up your own exciting new tipple at home. Either way, this one's for you, Negroni lovers. So grab an ice-filled glass, stir, pour, and enjoy!
The Boulevardier
Originally named after a 1920's Parisian publication founded by American writer Erskine Gwynne, The Boulevardier could be described as the moody older brother of Negroni.
Darker and stormier than its younger sibling, The Boulevardier packs a punch as the perfect Winter bracer, slickly switching up gin for bourbon, which is mixed with sweet vermouth and Campari; the whiskey adding a rich, intriguing depth to the usually crisp finish of a traditional Negroni.
Boulevardier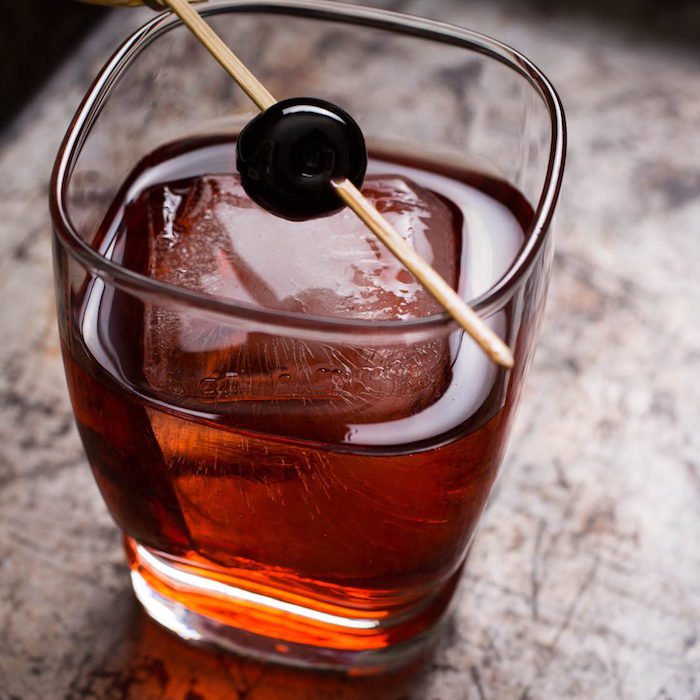 Ingredients
1 oz Campari
1 oz Sweet Vermouth
1 1/4 oz Rye whiskey
1 Orange Peel
How to make it
Stir with ice, strain, garnish and serve.
The Americano
Often described as the perfect 'palate cleanser on a hot day', The Americano is a sunnier, bubblier option to Negroni, and also a popular substitute for its fashionable rival, Aperol Spritz.
First created in Caffè Campari in the 1860s by Gaspar Campari, The Americano is a combination of Campari, sweet vermouth, and club soda. When bored of his classic Martini, James Bond has been known to order one, providing it is made with Perrier not soda water.
Americano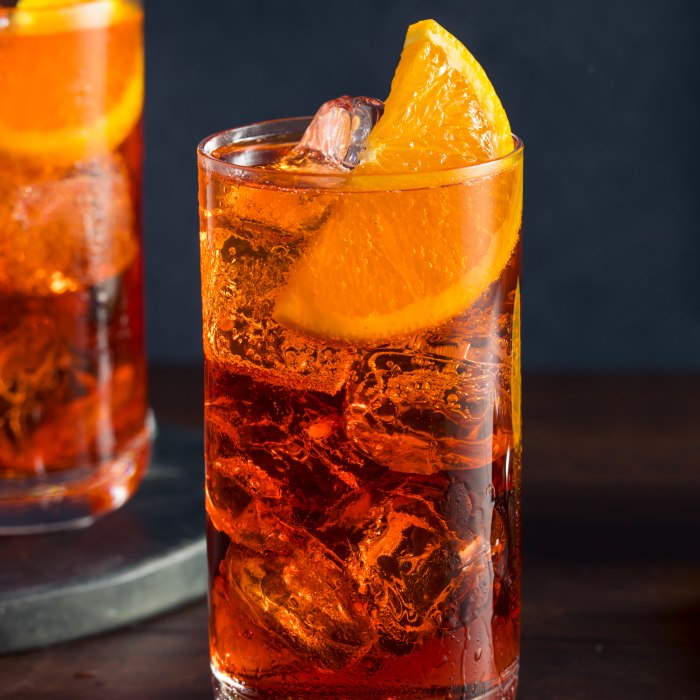 Ingredients
1 oz Campari
1 oz red Sweet Vermouth
Twist of Lemon peel
Twist of Orange peel
How to make it
Pour the Campari and vermouth over ice into glass, add a splash of soda water and garnish with half orange slice.
Cappelletti Spritz
A lesser-known younger cousin to Campari and Aperol, Cappelletti is a red Italian wine-based liqueur, used in spritzers and cocktails. Lighter and sweeter to taste than Campari, an opening sip of Capelletti will imbibe a sweet vermouth-like flavor, which then becomes infused with bitter herbal overtones, affording a clean, dry finish.
You can create your own Cappelletti Spritz by blending it with Prosecco and Club Soda.
Aperol Spritz
An absolute summer staple; who doesn't love this amber-hued aperitif, which has positively soared in popularity since it first emerged from Italy?
Aperol Spritz, or 'Spritz Veneziano', is an Italian wine-based cocktail made with Prosecco, Aperol, and soda water. Again, this is a 'Negroni-light' option, as it is bubblier and less potent than the original, but still carries that distinctive Campari flavor.
Aperol Spritz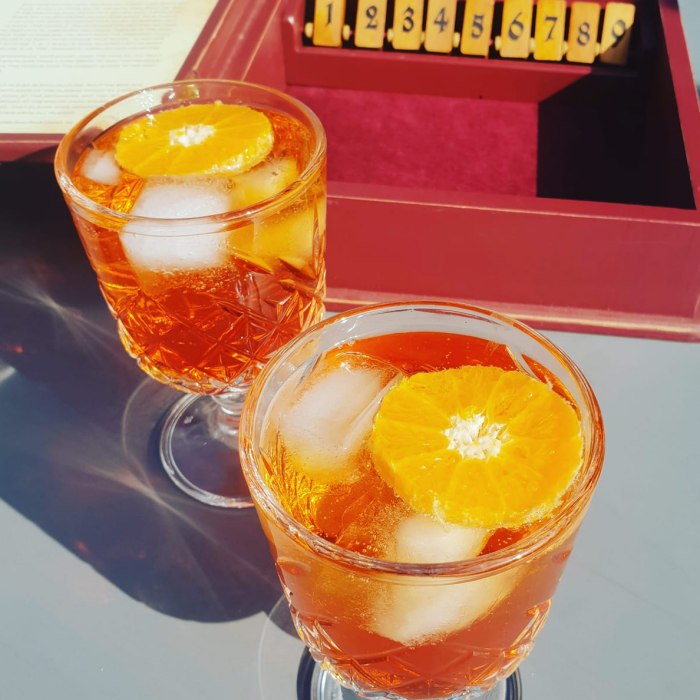 Ingredients
100 ml Aperol
150 ml Prosecco
Top Soda Water
How to make it
Put a couple of cubes of ice into 2 glasses and add a 50 ml measure of Aperol to each.
Divide the prosecco between the glasses and then top up with soda, if you like.
Cynar Cocktail
Cynar is a dark brown, earthy, bittersweet Italian aperitif, comprised of 13 herbs and plants, including the artichoke 'Cynara scolymus', from which it derives its name. Given its low alcohol, low sugar content, Cynar is extremely versatile and can be taken neat, or mixed in a cocktail with soda water, or alternatively with cola, eggnog, tonic water, milk, or bitter lemon soda.
Cynar and orange juice, much like Campari and orange juice, is another popular combination. It can also be used as a suitable substitute for Campari in a Negroni, and really hits the spot when bourbon is thrown into the mix!
Contessa
A pleasing twist on the classic Negroni, the Contessa, or 'Aperol Negroni', is a lighter, less potent tipple, made using equal parts gin, Campari and sweet Vermouth. To make it less bitter, you can vary the recipe, using equal parts sweet vermouth, Aperol (which is sweeter than Campari), and gin. Try this recipe for starters.
Old Pal
If you're a fan of the Boulevardier, then you must try the Old Pal; another three-ingredient cocktail, it tastes very similar to the Boulevardier, but with a drier finish.
In an innovative twist on the classic Negroni recipe, Campari is mixed with rye whiskey instead of gin, and dry French vermouth is used instead of sweet. When preparing an Old Pal, stir all the ingredients with ice, then strain into a cocktail glass filled with ice, and garnish with an orange slice.
Old Pal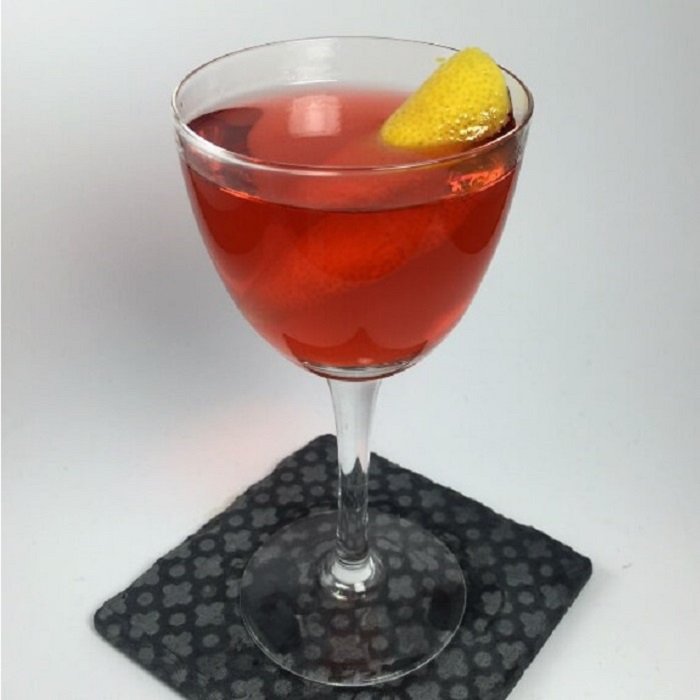 Ingredients
2 oz Rye whiskey
1 oz Campari
1 oz Dry Vermouth
How to make it
Chill cocktail glass.
Add ingredients to a mixing glass, and fill 2/3 full with ice.
Stir about 20 seconds.
Empty cocktail glass and strain into the glass.
Garnish with a twist of lemon peel.
Bermuda Hundred
If you've been known to cheat on a Negroni with a Mai Tai, or simply fancy adding a tangy twang of the Tropics to your classic Negroni, then you must try a Bermuda Hundred! Why? Well, according to the Saveur, this cocktail, has best been described as: 'the lovechild of a Mai Tai and a Negroni'.
Comprised of gin, pineapple juice, Campari, lime juice and Orgeat, the Bermuda Hundred is shaken with ice, then served in an ice-filled old-fashioned glass with a cherry garnish. Try the Saveur's recipe here.
Count Mast Negroni
Getting bored of your usual and want to shake things up a bit? How about trying the blow-your-socks-off Negroni, aka the Count Mast Negroni! What's so special about this potent little number, I hear you cry? Well, forget the tried and tested, this newbie eschews the standard Campari for, wait for it, Jägermeister!
Made with equal parts gin, sweet vermouth, and Jägermeister, this aromatic version offers more intense herbal and licorice-like notes into the mix. To prepare, simply stir all the ingredients with ice in a mixing glass, then pour into an old-fashioned glass filled with ice, and garnish with lemon or orange peel.
Negroni Sbagliato
Fancy creating a more sophisticated Breakfast at Tiffany's vibe during cocktail hour? Then why not try something sparkly and chic, like the Negroni Sbagliato?
In this variation on the original, simply ditch the gin for Prosecco or Champagne and away you go. Yep, this effervescent delight, made from Campari, sweet vermouth, and sparkling wine will definitely deliver the perfect festive fizz. Serve in a Champagne flute or on the rocks.
Negroni and the Goat
If none of the above float your boat, how about the Negroni and the Goat? First created by Stephanie Izard in 2014, the strangely named cocktail was named after the Girl & the Goat restaurant in Chicago.
This Negroni hybrid is made using Averna, a Sicilian herbal liqueur, combined with equal parts gin, sweet vermouth, and Aperol. To prepare, mix the ingredients with ice, and strain into a coupe glass, or ice-filled Collins garnished with an orange twist.