White Russians are a creamy, rich, and boozy cocktail. First mentioned in a 1965 edition of California's Oakland Tribune, they gained notoriety in the 1998 cult classic The Big Lebowski—and have gone on to become a staple of cocktail bars around the world.
There are more varieties of the White Russian to count, and hundreds more similar cocktails that even predate it. But in my opinion, the best thing about cocktails is their creativity, and the fun you have making (and drinking!) them.
With that in mind, here's my list of 10 creative cocktails to try if you love a White Russian.
The Dude
We couldn't start this list without a souped-up version of the White Russian: The Dude. This elaborate take on the classic cocktail was created by Xavier Herit at Wallflower bar in NYC.
The Dude swaps out the vodka of a White Russian for ruby port and cognac, and instead of Kahlúa Herit recommends using real cooled coffee. The addition of heavy cream, egg, demerara sugar, and Angostura bitters ensures this cocktail lives up to its predecessor.
When dry shaken, the egg creates a fabulous frothiness which looks amazing served in a highball glass with a fun straw. The Dude would approve and so do we!
White Nun
Although White Russians are served as a chilled cocktail, the White Nun from Tosca Café in my local San Francisco shows us that a little heat never hurt anyone.
Their take on a hot White Russian swaps vodka for brandy, and heavy cream for a hot coffee cream, topped off with coffee liqueur.
Simmer all this good stuff in a saucepan before serving in a mug. For an extra special touch, you can whisk heavy cream in the same pan before piling on top of your hot cocktail. Winter warmers never tasted so good!
Dulce y Salado
White Russians are delicious, sure, but they can always be improved. And that's what Mockingbird Hill in Washington, D.C. aim for. They center their cocktails around sherry and eccentric, interesting liqueurs. Bartender Chantal Tseng created the Dulce y Salado as a unique twist on the White Russian.
A rocks glass is rimmed with ground coffee and salt to set the stage for a cocktail featuring cooled brewed coffee, peanut rum crème liqueur, and cream sherry.
Served over ice, this quirky cocktail is one for your recipe books.
Black Russian
The Black Russian actually predates the White Russian as it was created in 1949 at a bar in Brussels, Belgium. Despite delivering all that punchy coffee and vodka flavor the world has grown to love, the Black Russian is simple to make and typically contains only 2 ingredients.
Simply stir vodka and Kahlúa over ice and strain into a rocks glass over ice. For a traditional flair, stick to the 1940s preparation method and pour vodka over ice cubes before topping off with Kahlúa. Voilà!
Black Russian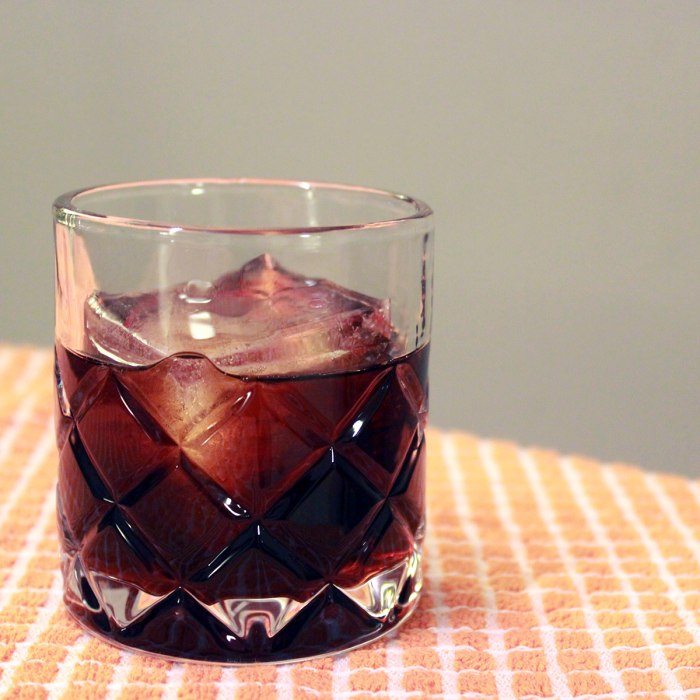 Ingredients
3/4 oz Coffee liqueur
1 1/2 oz Vodka
How to make it
Pour the ingredients into an old fashioned glass filled with ice cubes.
Stir gently.
Colorado Bulldog / Colorado Mother
Although no one is sure where the name came from, the Colorado Bulldog has certainly got a bite to match its bark. The ingredients are simple, just combine coffee liqueur, vodka and cream in a shaker then pour over ice into an Old Fashioned glass.
Now for the twist: top off the cocktail with your favorite brand of cola for the unmistakable fizzy sweetness of the Colorado Bulldog. If you're feeling even more adventurous, swap out the vodka for tequila to make a Colorado Mother.
Playing around with ingredient ratios and trying different liqueur flavors gives you more creative freedom with this party cocktail.
Leche Mexicana
Chocolate milk was one of the best things about childhood, and now you can enjoy the grown up version too! Leche Mexicana was created by Sauza Tequila as a perfect dessert cocktail or even a nightcap on a winter's day.
The cocktail combines white tequila with crème de cacao and milk to give a rich and creamy treat without too much sweetness. A sprinkling of nutmeg and some orange zest rounds the flavors off into a truly delicious evening delicacy.
I'm sometimes a little dubious of brands creating cocktails as it seems like a marketing ploy—but when the result is the Leche Mexicana, I can't really complain.
Bourbon Milk Punch
We're going old-school with this next cocktail. The Bourbon Milk Punch has recipes dating back to the 1600s with a popular resurgence taking place hundreds of years later in the French Quarters of New Orleans.
Use whole-fat milk, bourbon, simple syrup, and vanilla extract to create this old timey but timeless classic cocktail.
A liberal dusting of nutmeg provides warmth and tasty, spicy aromatics.
Mudslide
We've had chilled White Russians, and we've had hot White Russians—now it's time for frozen White Russians. The Mudslide was dreamt up at Wreck Bar on Grand Cayman Island in the 1970s before finding its place as a regular feature on the TGI Friday's cocktail menu.
Ingredients vary, but generally they include heavy cream, vodka, coffee liqueur, and Baileys garnished with chocolate shavings.
In some places you'll find a Mudslide served piled high with ice cream, in others as a more reserved sipping cocktail. This indulgent version is a particular favorite of mine, because it uses Oreo Cookies:
Oreo Mudslide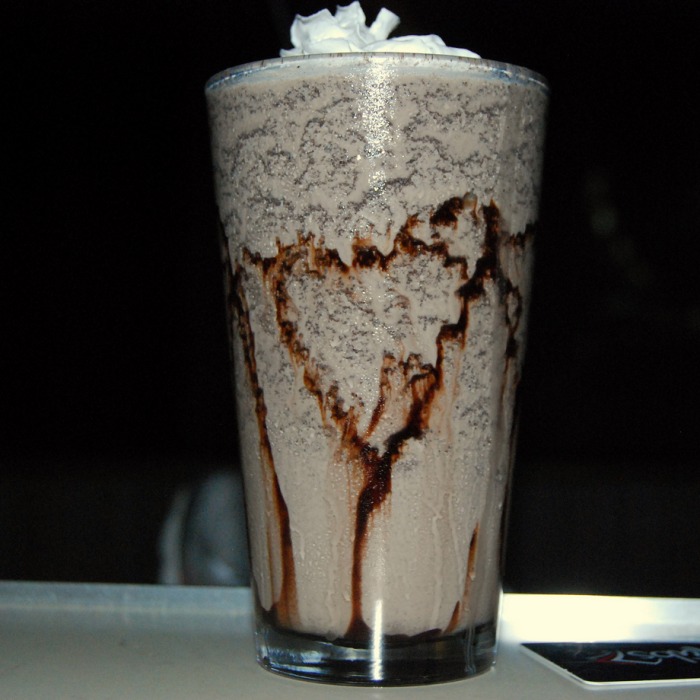 Ingredients
1 oz Vodka
1 oz Kahlua
1 oz Baileys irish cream
2 scoops Vanilla ice-cream
1 Oreo cookie
How to make it
Blend Vodka, Kahlua, Bailey's, ice-cream and the Oreo well in a blender.
Pour into a large frosted glass.
Garnish with whipped cream and a cherry.
Brandy Alexander
The Brandy Alexander was initially called the Alexander #2 in homage to its predecessor—the Alexander cocktail. The Alexander cocktail itself is thought to have originated at the Hotel Rector in pre-prohibition NYC.
The Brandy Alexander soon took over as the cocktail of choice and swaps out the Alexander's gin for dark cognac and adds in heavy cream and crème de cacao.
Shake then strain into a coupe glass and garnish with ground nutmeg.
Ozark Speedball
Continuing the theme of liqueur experimentation, the Ozark Speedball from House Spirits in Portland, Oregon switches up the classic White Russian with mouth-watering results.
Freshly ground coffee is allowed to chill before combining with white whiskey and Kahlúa to give strong bitter coffee flavors with a boozy kick and a touch of sweetness.
Once served in an Old Fashioned glass and topped with heavy cream and orange oil, this interesting play on a White Russian is sure to leave you wanting more.