We all know that mint and lime are two of the most refreshing flavors in a cocktail. But, have you ever wondered how they work together?
The citrusy quality of limes offsets the herbal qualities of mint so well that it's hard to imagine one without the other! Here are six different drinks for when you're looking for something delicious and refreshing to try.
Mojito
The mojito is a popular Cuban cocktail of iced lime juice, spearmint leaves, and sugar, combined with white rum. It's a great drink, and there are plenty of reasons why it's popular. The ingredients can be found pretty much everywhere, and that's part of the beauty of it! It also only contains five things, so even if you're new to cocktails, this one is easy to make.
The origins of the mojito remain somewhat unclear. The most commonly accepted story is that it originated in Cuba, after sugar cane (often chewed raw for its stimulant effect) was brought to the island nation by Columbus. It did not take long before bartenders discovered cocktails—the mojito being one of them.
Whatever its true origin, Cuba has made this drink famous. And now bartenders are using the most popular cocktail in Havana as inspiration for their drinks creations all over the world.
Mojito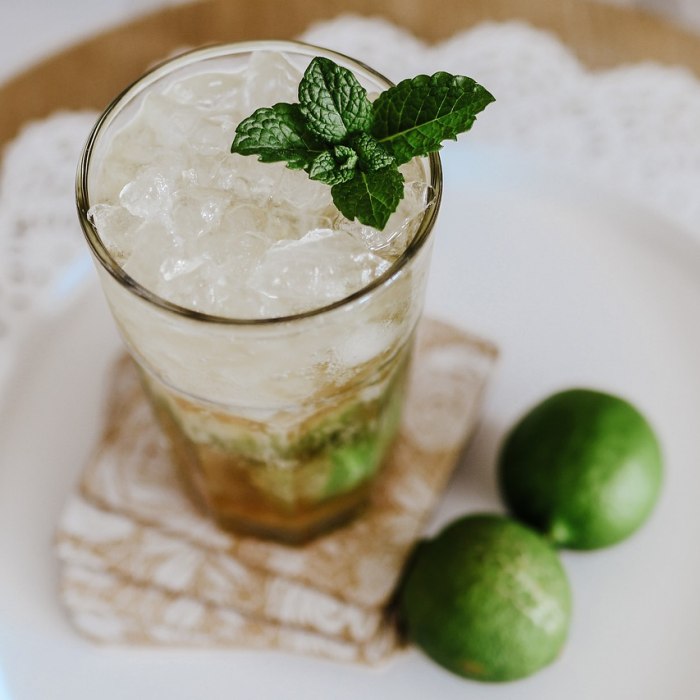 Ingredients
2-3 oz Light rum
Juice of 1 Lime
2 tsp Sugar
2-4 Mint
Soda water
How to make it
Muddle mint leaves with sugar and lime juice.
Add a splash of soda water and fill the glass with cracked ice.
Pour the rum and top with soda water.
Garnish and serve with straw.
Mango Mojito
A fun twist on the classic mojito, this mango mojito is a fresh, fruity version of the drink. The original mojito only contains five ingredients, so you can use the mango to liven things up without sacrificing any flavor!
Mango adds a sweet quality to the drink, while still allowing some of the more herbal notes through. Mint is a great compliment to mango, and leaves you feeling fresh after each sip.
This one is a little more hassle to make thanks to the mango purée, but it's absolutely worth the added effort in my opinion. You can make your own purée out of fresh or frozen mango here depending on what you have on hand.
Mango Mojito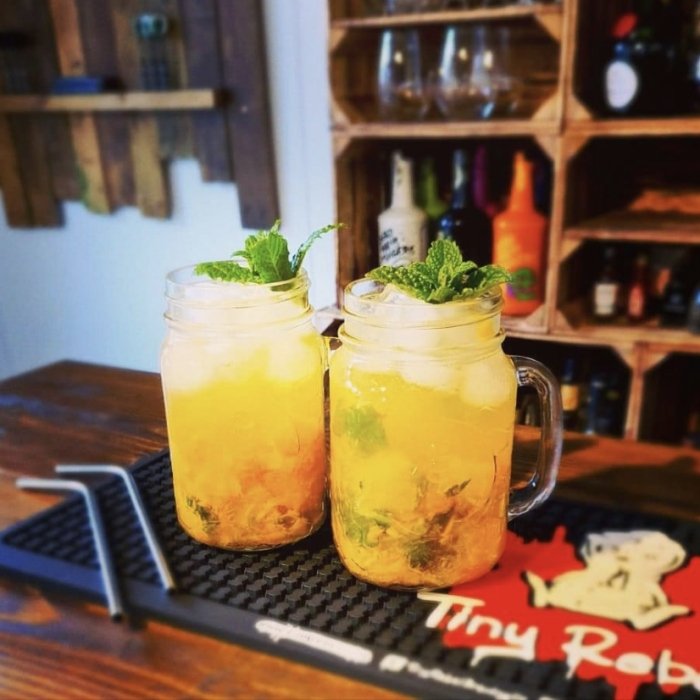 Ingredients
3 Lime
1 Fresh Mango
Sprig Mint
200 ml White Rum
Cubes Ice
Top Soda Water
Garnish with Mango
How to make it
Squeeze the juice from 1½ limes and blend with the mango to give a smooth purée.
Cut the rest of the limes into quarters, and then cut each wedge in half again.
Put 2 pieces of lime in a highball glass for each person and add 1 teaspoon of caster sugar and 5-6 mint leaves to each glass.
Squish everything together with a muddler or the end of a rolling pin to release all the flavours from the lime and mint.
Divide the mango purée between the glasses and add 30ml white rum and a handful of crushed ice to each one, stirring well to mix everything together.
Top up with soda water to serve and garnish with extra mint, if you like.
Smashed Watermelon Margarita
Everyone knows the classic Margarita, but that version is not traditionally made with mint.
However, this smashed watermelon version combines a sweet watermelon-mint purée with zesty fresh grapefruit juice, and you can also use mint as a finishing touch to this drink.
I have to admit, I was skeptical at first. But, after trying it out for myself, I think that blending in some mint makes all the difference. It has a much fruitier taste than the classic Margarita, so those who are a little more adventurous with their tequila-based cocktails will really enjoy this one.
Smashed Watermelon Margarita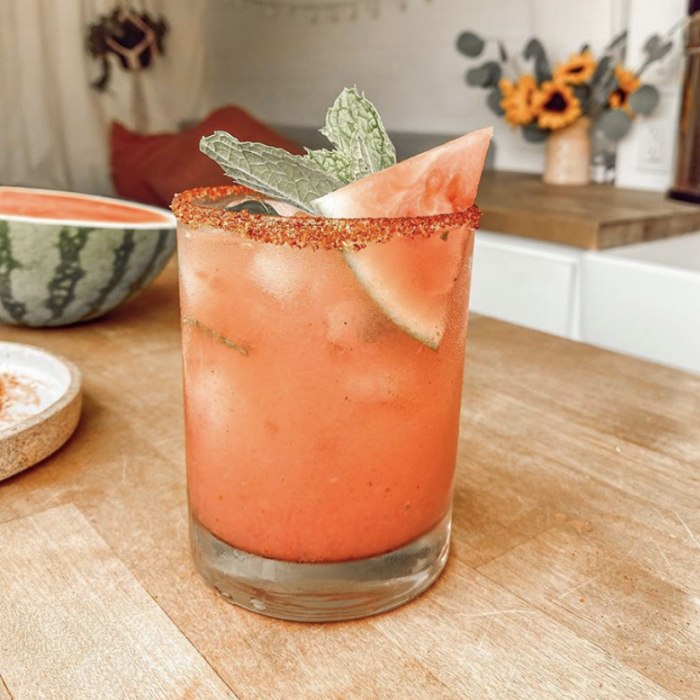 Ingredients
1/2 cup Watermelon
5 Mint
1/3 Cup Grapefruit Juice
Juice of 1/2 Lime
1 shot Tequila
Garnish with Watermelon
Garnish with Mint
How to make it
In a mason jar muddle the watermelon and 5 mint leaves together into a puree and strain.
Next add the grapefruit juice, juice of half a lime and the tequila as well as some ice.
Put a lid on the jar and shake.
Pour into a glass and add more ice.
Garnish with fresh mint and a small slice of watermelon.
Frozen Mint Daiquiri
The Daiquiri is another one of Cuba's iconic drinks, very similar to the mojito, but using just lime instead of mint leaves. However, this frozen version adds a cool, minty twist to the classic daiquiri.
The result is almost identical in flavor to a mojito, but the addition of ice makes for a thicker cocktail—perfectly refreshing on a hot summer's day. If I had to create the perfect adult slushie, this might just be it.
I would recommend using super fine sugar for this one since it helps keep the texture nice and smooth.
Frozen Mint Daiquiri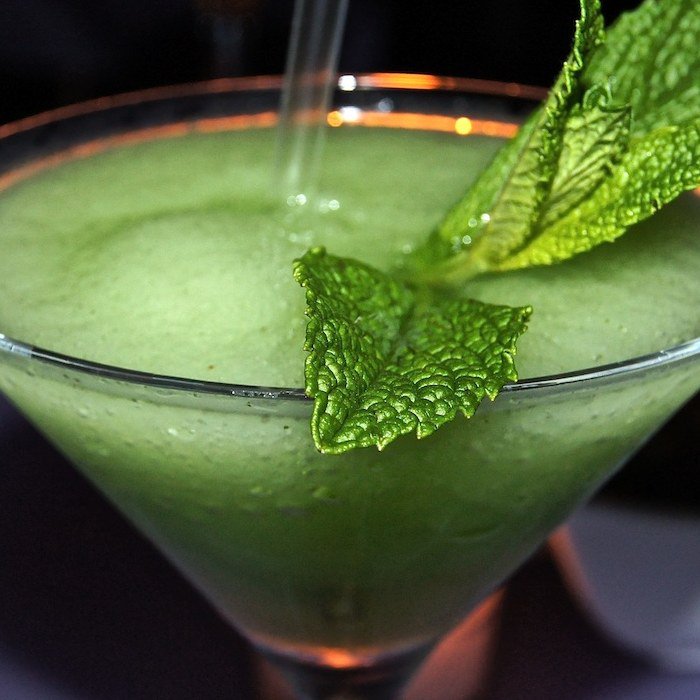 Ingredients
2 oz Light rum
1 tblsp Lime juice
6 Mint
1 tsp Sugar
How to make it
Combine all ingredients with 1 cup of crushed ice in an electric blender.
Blend at a low speed for a short length of time.
Pour into an old-fashioned glass and serve.
The Laverstoke
The Laverstoke is a drink that is as delicious as it is beautiful. It combines gin, elderflower cordial, and red vermouth (with mint and lime, of course) for a complex yet balanced flavor.
I happened to try this one out while visiting London, and I fell in love with it immediately. The taste is floral yet spicy at the same time, and the glass (a balloon glass) definitely makes for an eye-catching drink!
If you want a drink that's a step up from the classics, the Laverstoke is perfect for you. Elderflower cordial adds an extra depth of flavor to this drink thanks to its floral notes. It also is pretty sweet, so there's no need to worry about adding any additional sugar or syrup.
The Laverstoke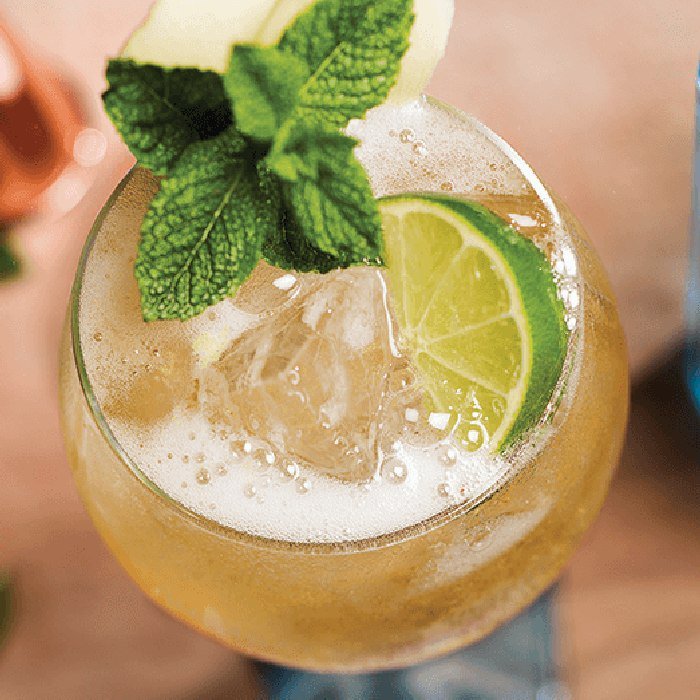 Ingredients
50 ml Gin
15 ml Elderflower cordial
15 ml Rosso Vermouth
75 ml Tonic Water
2 Wedges Lime
1 Slice Ginger
1 Large Sprig Mint
How to make it
Squeeze two lime wedges into a balloon glass then add the cordial, Bombay Sapphire and MARTINI Rosso Vermouth, swirl to mix.
Fully fill the glass with cubed ice and stir to chill.
Top with Fever-Tree Ginger Ale and gently stir again to combine.
Garnish with a snapped ginger slice and an awoken mint sprig.
Moscow Mule
A very popular drink, the Moscow Mule is a yummy take on three classics: vodka, ginger beer, and lime juice.
Although the original recipe doesn't technically call for mint, I'm including it here because I love the extra kick that a mint garnish brings to this delicious drink. Just add a sprig on top.
For the ginger component, you can either use ginger beer (which you can find at most markets), or ginger ale for a lighter drink. I personally recommend using the ginger beer because it adds a spicy quality that helps cut through the acidity of the lime juice and makes this cocktail super refreshing!
Moscow Mule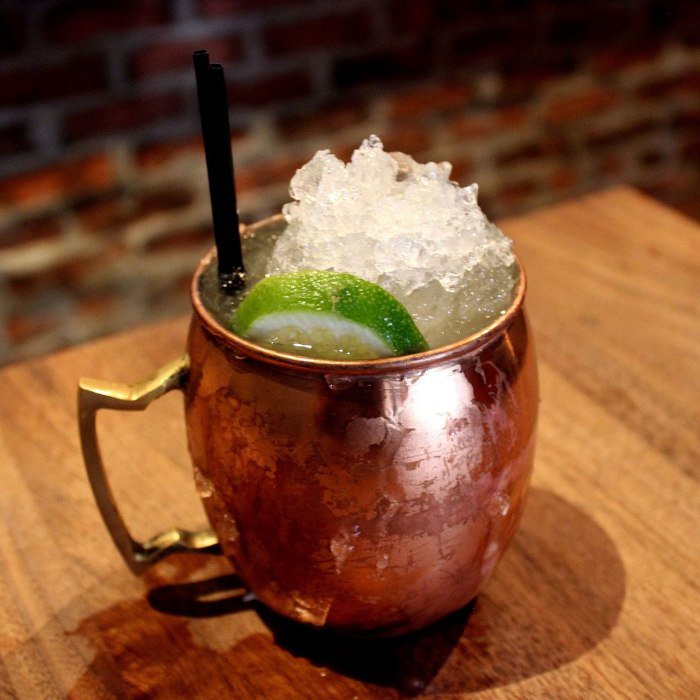 Ingredients
2 oz Vodka
2 oz Lime juice
8 oz Ginger ale
How to make it
Combine vodka and ginger beer in a highball glass filled with ice.
Add lime juice.
Stir gently.
Garnish.
There you have it: six delicious cocktails using mint and lime for a refreshing taste that will have you coming back for more.
The Laverstoke is a great choice if you want to move beyond the classics, while the Mojito, Moscow Mule, and Frozen Mint Daiquiri are perfect for those who still want to keep it simple as well as cool and refreshing!