Malibu is an iconic summery drink that always reminds me of beaches and coconut suntan oil. It pairs well with many clear spirits, but it is particularly good with vodka. Vodka's neutral flavor profile allows Malibu's sweet coconut flavors to shine, so it comes as no surprise that vodka and Malibu are an excellent base for a variety of cocktails.
Before I get into my favorites, here's why these two ingredients work so well together.
Why Malibu and Vodka Are a Great Cocktail Combo
Malibu is a rum-based coconut liquor that originated in Curaçao in the Dutch Caribbean. Originally used as a premix to simplify piña colada cocktails, Malibu gained its own following for its tropical taste evocative of soft sand and tropical palms.
Malibu is relatively light with a 21% ABV, but when mixed with the Russian favorite, vodka, this liquor takes on an extra kick. The pairing of Malibu and vodka seems made in paradise and has given rise to several delicious cocktails.
Here are some of my top picks for Malibu-vodka cocktails that will rock your home bar.
Malibu Paradise
The Malibu paradise is a gorgeous cocktail that tastes like a Cosmopolitan on a beach vacation. Instead of the orange liquor in a Cosmo, Malibu takes its place with an added touch of pineapple juice to make you feel like you are in an island paradise.
Ingredients
1 US fl oz (30ml) Vodka
1 US fl oz (30ml) Malibu
2 parts cranberry juice
1 part pineapple juice
Lime wedge
The cocktail is a breeze to make; pour all the ingredients in a shaker over ice (always put the ice first!). Then strain into a chilled martini glass and garnish with a wedge of lime. Then simply sit back and listen to the waves.
Arizona Twister
This fancy-looking tropical drink is perfect for spring break or a summer party with friends. Don't be fooled by the long ingredients list; this is a pretty easy cocktail to make. It's delicious, sweet, and will certainly put you in the mood for some fun in the sun.
Be sure to have some cocktail umbrellas at the ready—this drink looks so good, you will definitely want to post this one on Instagram before drinking!
Arizona Twister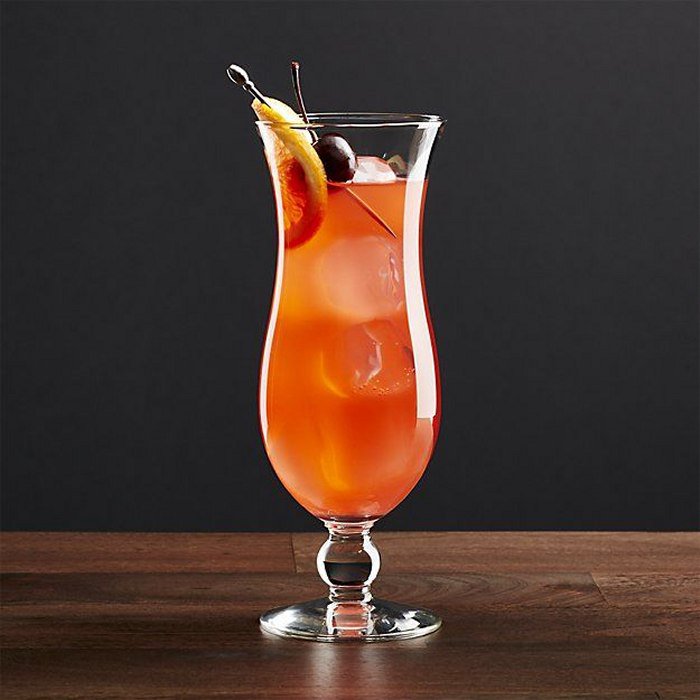 Ingredients
1 shot Vodka
1 shot Malibu rum
1 shot Gold tequila
1 splash Orange juice
1 splash Pineapple juice
1 splash Cream of coconut
1 dash Grenadine
Crushed Ice
1 wedge Pineapple
How to make it
Just mix in the shots of rum, vodka, and tequila.
Add splashes of the three juices, heavy on the pineapple.
Top off with grenadine.
Crushed ice should already be in glass.
Top off the glass with a pineapple wedge.
Malibu Sex on the Beach
Malibu takes this classic cocktail to the next level by adding a hint of coconut to your beach excursion. This fruity drink comes with a warning; these fruity summer flavors make this cocktail taste like a fruit drink, but it packs a punch!
Ingredients
1 US fl oz (30ml) Vodka
1 US fl oz (30ml) Malibu
0.7 US fl oz (22ml) Peach Schnapps
Fresh Orange juice
Cranberry juice
Orange wheel slice
Maraschino cherry
The Malibu Sex on the Beach couldn't be easier to pour (or drink). Simply take a highball glass filled with ice and pour in your three alcohol ingredients. Then fill your glass up ⅔ with fresh orange juice (the real thing always tastes better!)
Then slowly pour your cranberry into the last third of the glass. You should get a sunset effect with the pink fading into the orange.
Garnish with a slice of orange and a Maraschino cherry.
The Long P*rnstar
How could this cocktail not make a best Malibu-vodka cocktail list with a name like this! This drink combines the coconut flavor of Malibu with passion fruit juice. I know passion fruit juice may be hard to come by, but don't be tempted to substitute it with cordial if you can get passion fruit juice—it makes all the difference.
I find if you combine the pulp of four medium size granadillas with about 150ml fresh orange juice, you can come pretty close to the perfect flavor.
Ingredients
1.5 US fl oz (44.4ml) Vanilla Vodka
0.7 fl oz (22ml) Malibu
Passion fruit juice
Pineapple slice
As this is a 'built' cocktail, you won't need any shakers or strainers (which makes it a great beach drink!). Simply fill a highball with ice, pour your vodka and Malibu and top up with passion fruit juice.
Malibu St Lawrence Lemonade
This cocktail is light and refreshing for a summer day if fruit juice isn't your thing. The lemonade and coconut pair really well, and the vodka adds an added 'voom' to this summer cocktail.
Ingredients
1 US fl oz (30ml) Vodka
1 US fl oz (30ml) Malibu
Lemonade
Mint leaf
Nothing could be easier than filling a highball with ice and topping up with fizzy lemonade. The mint garnish looks great, but I like to add a couple more leaves to the drink for a mojito-like effect.
Vodka Shark Bite
This drink is great fun, and be prepared for everyone to ask you what you are drinking. The layers of blue at the top and a splash of red at the bottom make it look like a shark attack.
The original recipe does not include vodka, but it works great in this drink and gives it a bit more of a bite (after all, it's a shark bite!).
Ingredients
1 US fl oz (30ml) Vodka
1 US fl oz (30ml) Malibu
1 US fl oz (30ml) Blue Curaçao
1.5 US fl oz (44ml) Pineapple juice
Sprite to top (about 2 US fl oz/60ml)
Squeeze of lime
0.34 US fl oz (10ml) grenadine
Maraschino Cherry to garnish
The art of this cocktail is to serve it soon after pouring so that the blood effect at the bottom of the glass is still fresh.
Shake the vodka, Malibu, pineapple, and Curaçao very well in a shaker filled with ice. Pour into a hurricane glass filled with ice and top up with sprite and a squeeze of lime. Stir gently to mix.
Then the trick is to trickle the Grenadine carefully through the center of the drink. The density of the syrup allows you to trickle the Grenadine through the drink layers until it collects in a bloody heap at the bottom of your glass. Add a cherry and serve ASAP!
Closing Thoughts
Malibu and vodka are a great starting point for your summer (or winter) cocktail menu, with so many great recipes to choose from. The vodka gives the Malibu more edge without overwhelming its delicate coconut sweetness.
I hope you found a new favorite cocktail in the list above, and remember there's nothing to stop you from experimenting with new flavors and concocting your own!