Do you enjoy a delicious, tropical cocktail as soon as the weekend comes around? Well you're not alone! If you're craving a beautifully sweet, tart cocktail made with your favorite passionfruit liqueur, I've got you covered with this article.
Passoa mixes well with a range of ingredients, and here I've selected some of my favorite passionfruit cocktails for you to try at home.
Pornstar Martini
The Pornstar Martini is one of the nation's most well-loved and enjoyed cocktails, and it's easy to see why: bursting with light passionfruit notes, it's simple to make and easy to drink making it the perfect tipple for all occasions.
With a deliciously refreshing taste, a Pornstar Martini is composed of Vanilla Vodka, Passoa, Passionfruit juice and lime juice and is garnished with half a passionfruit and served with a shot of prosecco on the side.
This cocktail is quick and easy to make, and its 5 ingredients can be found in many supermarkets and liquor stores across the country. This cocktail is best served straight up in a martini glass.
Pornstar Martini
Ingredients
3 cl Vodka
3 cl Passoa
1 cl Passion fruit juice
1 cl Lime
1 shot Prosecco
How to make it
Straight: Pour all ingredients into mixing glass with ice cubes.
Shake well.
Strain in chilled martini cocktail glass.
Cut passion fruit in half and use as garnish.
Pour prosecco into a chilled shot glass and serve alongside the martini.
Passoa Flower Collins
The classic Collins cocktail recipe really is simple: gin, lemon or lime juice, a sweetener, and soda. The most iconic example of all is the Tom Collins, which features gin, lemon juice, sugar syrup and soda. Over the years mixologists around the world have been adding their own touch to the Collins by adding various ingredients, and the Passoa Flower Collins tweaks this iconic cocktail with – you guessed it – Passoa.
The passionfruit of the Passoa takes away the edge from the botanical and juniper notes of the gin, creating a deliciously light and refreshing drink that is perfect for summer evenings relaxing in the garden. The Passoa Flower Collins is mixed with Gin, Lime, and Soda, and should be built in a traditional Collins glass over ice.
Passionfruit Margarita
If you love nothing more than a refreshing margarita cocktail in the summer, then you're going to love this fruity take on the classic. Containing tequila, triple sec, lime juice, tonic water, and Passoa, this Passionfruit Margarita has everything you could ever want or need from a drink, and more.
With fruity notes to take away the harshness of the tequila, this cocktail is best enjoyed by the pool in the height of summer or on a night out with friends. Serve this cocktail in a classic margarita glass with salt around the rim, and garnish with a lime wedge.
Hurricane
This iconic tropical Passoa take on the popular sweet, boozy hurricane cocktail is simple to make and will be an easy win with party guests. Filled to the brim with deliciously light Passoa, light and dark rum, orange, and lime juice, this is one cocktail that has stood the test of time.
The original hurricane cocktail originated in New Orleans over 80 years' ago to use up excess rum. Fast forward to today and you'll still see the people of New Orleans enjoying a hurricane cocktail, especially during Mardis Gras.
Like many iconic cocktails, the hurricane recipe has been tweaked over the years to suit a variety of tastes, and the Passoa hurricane is just one of them. Serve in a classic hurricane glass over ice with some fruit to garnish and you have the perfect party starter!
Blue Hurricane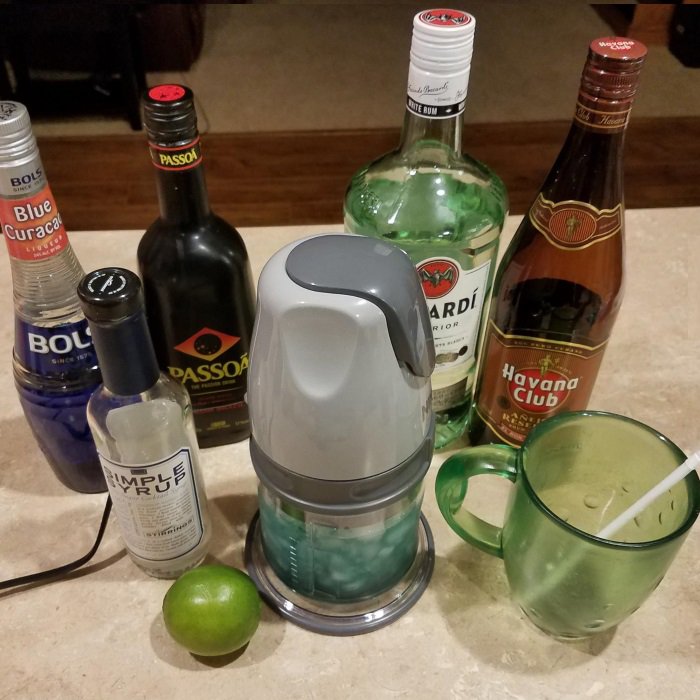 Ingredients
4 parts Rum
2 parts Dark Rum
1 part Passoa
1 part Blue Curacao
6 parts Sweet and Sour
Cubes Ice
How to make it
If each part is 1/2 oz then use about 25 cups of ice.
Blend it all together.
Drink it with a big straw if you have one.
Passionfruit Daiquiri
Deliciously fruity, vibrant, and an all-round thirst-quencher, this passionfruit daiquiri has all the style and sophistication of its ancestor, but all the fun a light, summery cocktail drink should have. This cocktail can be whipped-up at home in under 5 minutes, so it's perfect if you're entertaining guests.
A classic daiquiri contains rum, lime juice and sugar syrup but this twist on the classic also contains Passoa and half a passionfruit to garnish. It's the perfect drink if you have a sweet tooth as the passionfruit from the Passoa and lime juice make it incredibly easy to drink.
This daiquiri can either be served in a margarita, or martini glass and garnished with half a wedge of passionfruit.
Bay of Passion
Bay of Passion is one of the most delicious Passoa cocktails – and for good reason too – it's so simple and fruity! This drink is perfect if you want an easy cocktail that requires no fancy shakers or apparatus as it can be built in a highball glass.
The Bay of Passion cocktail has a fragrant and zesty taste and is composed of Vodka, Passoa, cranberry and pineapple juice. It should be served on top of ice and garnished with a lime slice.
Passionfruit Sour
Sour cocktails are one of the oldest mixed drinks in the book—and for good reason too! The syrupy sharp flavor is iconic, and you can use a range of different liquors.
The most classic sour of them all is the whiskey sour, but this Passionfruit sour made with Passoa is rapidly becoming a favorite for me as it's so rich and smooth to drink.
Composed of Passoa, lime juice, passionfruit juice, vodka, and egg white (or a dash of pineapple juice if you're vegan) this cocktail is quick and easy to make in a cocktail shaker. Serve over ice and garnish with half a passionfruit for good measure.
Passoa 'N' Stormy
A Passoa 'N' Stormy is particularly refreshing on a long, hot, summer's day, but thanks to the spiciness of the ginger it can also be a well-loved drink in the colder months too.
This fruity twist on the traditional Dark 'N' Stormy cocktail calls for Passoa instead of dark rum and offers a moreish cocktail that can be served party-ready in pitchers filled with fruit and ice, or can be enjoyed in front of the fire in the winter.
Composed of Passoa, freshly squeezed lime juice, and ginger beer, this cocktail should be served in a highball cocktail glass over ice, and garnished with a wedge of lime.