If you like your alcoholic beverages to have a kick, a cocktail with a coffee-flavored spirit such as Patron XO Café might be a good option for you. From Espresso Martinis to White Russians, these mouth-watering and delicious cocktails are a sure-fire way to keep any party going—and impress your guests along the way.
Patron Espresso Martini
One of the most contemporary classic cocktails to emerge from the 1990s is the Espresso Martini, a cold, coffee-flavored cocktail that traditionally uses vodka, espresso, and coffee liquor in its recipe. Although far from a true martini (as it doesn't contain gin or vermouth) this is one of the best-known cocktails on the globe, satisfying cocktail enthusiasts for over 30 years.
With a deliciously powerful and sharp taste, the Patron espresso martini is composed of Patron XO Café, vodka, a shot of hot espresso and bitters. The most important part of the espresso martini is the crema (froth) on top of the cocktail – not only does it add a creamy layer to a powerful cocktail, but it also gives it that professional look and feel.
Add three coffee beans on top for a garnish and serve straight up in a martini glass.
White Russian
The traditional White Russian came to life in the 1960s, when someone added cream to the Black Russian cocktail, rendering it white. Neither drink is of Russian origin, but the name refers to the vodka used, which was often Russian Vodka.
The traditional White Russian cocktail is incredibly easy to make and combines vodka, coffee liquor, and cream all served together over ice in a short glass, however, to adapt it with Patron XO, just substitute the coffee liquor et voila! A decadent, coffee-based cocktail that can be compared to that of a boozy milkshake.
White Russian
Ingredients
2 oz Vodka
1 oz Coffee liqueur
Light cream
How to make it
Pour vodka and coffee liqueur over ice cubes in an old-fashioned glass.
Fill with light cream and serve.
Black Russian
The Black Russian is one of the easiest coffee-based cocktails you can make with Patron and is composed of Vodka, Patron XO and Ice. It's that simple.
This dark, bold beverage is often served with a maraschino cherry and is commonly served as an after-dinner drink in a small tumbler glass. If you prefer a longer drink that is less harsh on the palate, you can also top with chilled cola.
Black Russian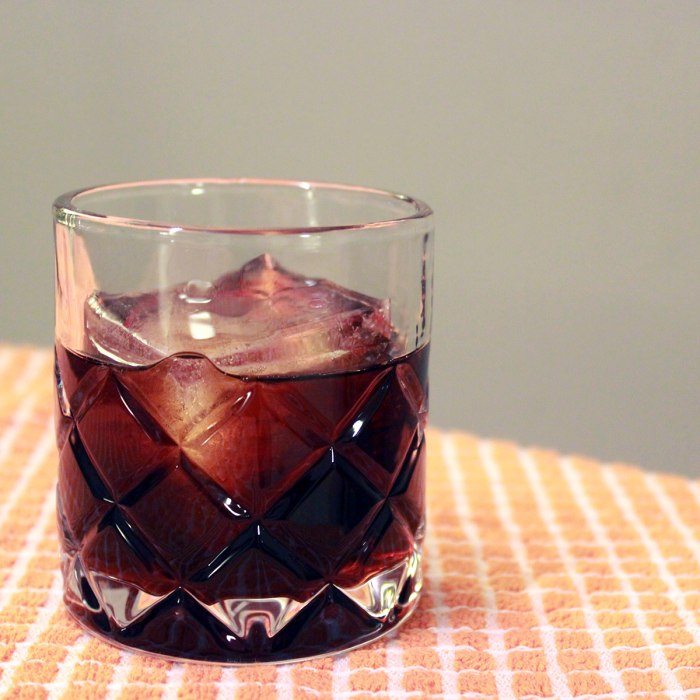 Ingredients
3/4 oz Coffee liqueur
1 1/2 oz Vodka
How to make it
Pour the ingredients into an old fashioned glass filled with ice cubes.
Stir gently.
Summer Storm
If there's one cocktail that doesn't sound like it should go together but is a taste sensation, then it's the Summer Storm. Featuring just five ingredients, this spicy little cocktail is the perfect tonic for a pick-me-up on a summer's evening.
Similar to the traditional dark & stormy, this version replaces adds Patron XO to offer something familiar yet different. Filling a tall glass with ice cubes, add dark rum of your choice followed by Patron XO and top-up with ginger ale for that extra added spice.
Tiramisu Shot
Cocktail, dessert, and mouth-wateringly delicious drink all in one, this little cocktail will blow your mind—and your tastebuds. With all the coffee and cream flavors of the iconic Italian dessert in the form of a cocktail, this drink is incredibly easy to make and will wow guests as an after-dinner showstopper and digestif.
The Tiramisu Shot features five key ingredients that echo the traditional flavors of tiramisu: Patron XO, Irish cream, vodka, whipped cream, and a dusting of cocoa powder to finish. It's served straight up in a shot glass with the ingredients carefully added to form layers.
Mudslide
The traditional mudslide cocktail is a relatively new cocktail, born in the 1970s. It shares some similarities with a White Russian, and rumor has it that a customer ordered a White Russian at a bar in the Cayman Islands, but they didn't have any cream, so swapped it for Irish cream instead!
The mudslide is an incredibly popular and delicious drink that is commonly shaken with coffee liquor, vodka, ice cream and Irish cream and served in a cocktail glass. Any coffee liquor can be used, but Patron XO Café just hits different. Topped with chocolate shavings, the mudslide is a dessert cocktail, and is fantastic for anytime you need a sweet treat after a meal.
B-52
A three-layered cocktail that is as delicious as it is aesthetically pleasing, the popular B52 shooter that pairs coffee liqueur (use Patron XO here) with Irish cream and orange liquor is what some people refer to as perfection.
The origins of this shot aren't completely clear, but the name is believed to have originated in 1970s Canada by a bartender and fan of the band the B-52s. The shot's appearance is made by layering all ingredients from most dense to least dense. The Patron goes in first, followed by the Irish cream and topped with orange liquor.
B-52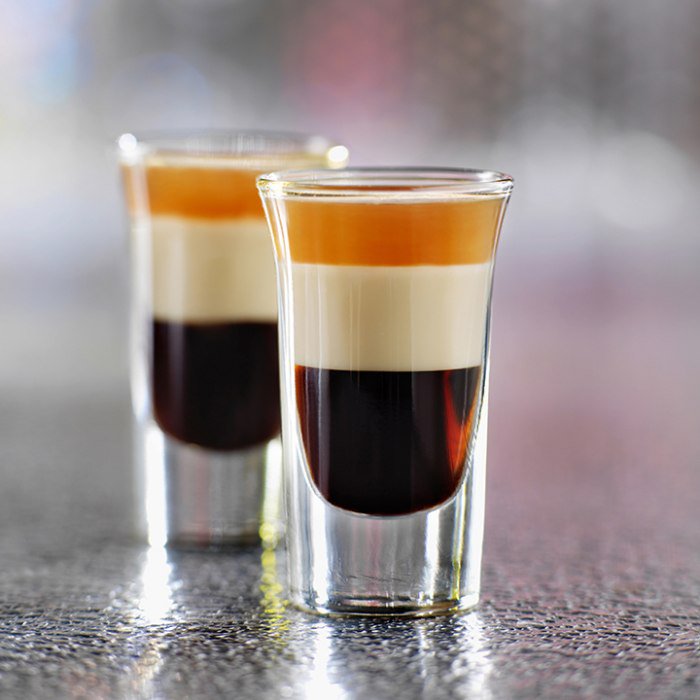 Ingredients
1/3 Baileys irish cream
1/3 Grand Marnier
1/4 Kahlua
How to make it
Layer ingredients into a shot glass.
Serve with a stirrer.
Bushwacker
This luxurious, creamy, and chocolatey drink will blow your mind with its explosion of rich flavors. It's just as refreshing as it is decadent and can only be described as the lovechild of a Pina Colada and milkshake thanks to its smooth notes of coffee, chocolate, coconut, and cream.
The ideal drink for sipping next to the pool on a hot summer's day, the Bushwacker was invented in the late 70s by two bartenders and was named after a customer's dog! The Bushwacker has since become a popular drink amongst mixologists and cocktail enthusiasts alike.
You can take any Bushwacker recipe and use Patron XO in place of the coffee liqueur.
Long Island Iced Coffee
This wonderfully boozy Long Island Iced coffee is one coffee everyone can get behind. The recipe is super easy to make, and it makes for the perfect after-dinner drink.
The Long Island Iced Coffee is similar to a Long Island Iced Tea in that it's incredibly boozy and great drink to make if you're emptying out the drinks cabinet, but there are a few key changes to transform it into this well-loved tipple.
This version features Patron XO and cold brew coffee instead of triple sec and cola to create a bold, yet smooth drink that is both easy to drink and enjoy. Simply add all the ingredients to a cocktail shaker and serve over ice in a tall glass to appreciate.