Simple syrup is featured in many cocktails, and can be found in just about every bar! It's also a great staple for your home bar, so it's always a good idea to have some on hand.
At its core, a basic simple syrup is just sugar water (specifically, it's sugar that has been dissolved in water). You can also get it infused with many other flavors like mint, chocolate, or even banana. But for the cocktails I'm about to show you, we're sticking with the basic kind.
You can make your own simple syrup at home by using a 1-to-1 sugar-to-water ratio and boiling the water to dissolve the sugar, but the store-bought kind works just fine too if that's what you have at home.
Here are 7 deliciously sweet cocktails that all include simple syrup in their recipes.
1. Mojito
The first drink on the list is the summertime classic cocktail, the mojito. The mojito is a traditional Cuban highball cocktail. Dating back to pre-1650 and British-Spanish rule over the Caribbean, the concoction was first made in Havana, Cuba.
The citrusy drink was originally intended to drink as a remedy for sailors suffering from scurvy on their long sea voyages. Made with sugar cane, rum, mint, and lime, the drink was effective at treating scurvy, but it was later learned that the lime juice by itself would have the same effect on the disease!
While some mojito recipes call for muddling the mint leaves with granulated sugar, I find it's a lot easer to get the sweetness to mix evenly when you use syrup, like in this recipe that uses simple syrup.
Enjoy a mojito during hot, sunny days, as the refreshing mint and lime juice are great over ice. Because the drink is from Cuba, it is excellent when paired with traditional Caribbean cuisine. Try enjoying a mojito cocktail with fish such as tilapia, sea bass, or tuna.
2. Whiskey Sour
You might not think a cocktail with "sour" in the name would include sugar, but this version of the classic whiskey cocktail features simple syrup to strike a perfect balance with the other ingredients.
The oldest mention of the drink dates back to a Wisconsin newspaper in 1870. But like the mojito, there is also rumor of British sailors drinking something quite similar to the modern whiskey sour (though they used scotch instead of whiskey, and added lemons or limes and sugar granules as a sweetener).
The whiskey sour is served in an old-fashioned glass and garnished with oranges and maraschino cherries. Try pairing the whiskey sour with a great seasonal salad. The tart flavor pairs great with a lighter fare.
3. Mint Julep
If you're looking for a summer concoction that has deep roots, then look no further than to the mint julep cocktail. Made with Kentucky bourbon, mint, and optional Angostura bitters, it's a stronger take on its Cuban cousin, the mojito.
The mint julep can be traced all the way to 1770 and is synonymous with the American South. Since 1938, however, the mint julep has been the official drink of the Kentucky Derby. In partnership with the Brown-Foreman Corporation and Churchill Downs, where the derby is run annually, only mint juleps made with Woodford Reserve Bourbon are available at the track!
This version of the classic mint julep is made by combining bourbon, mint leaf, ice, and simple syrup. Enjoy the drink with traditionally southern fare such as pimento cheese, deviled eggs, and fried chicken.
4. Tom Collins
Another traditional drink on the list is the Tom Collins. First mentioned in 1876 by Jerry Thomas, the father of American mixology, this gin and lemonade drink is light and refreshing.
While there are some disagreements over the actual creator of the drink, almost everyone can agree that the Tom Collins is a staple in any bar. You will find the classic Tom Collins is made with sugar, but this version made with gin, lemon juice, simple syrup, and club soda is equally delicious—and preferably served in a special Tom Collins glass.
This lemony cocktail pairs well with lighter fare such as seafood or salads. The tartness of seafood blends nicely with the sweetness of the drink. Be sure to serve it over a lot of ice!
5. Gimlet
Another one for the gin fans among us, the Gimlet is also a drink that has a citrusy tang to it—though this time with lime instead of lemon.
The Gimlet was allegedly created by British Royal Navy Surgeon Rear Admiral Sir Thomas Gimlette as a way to make lime juice last longer on long voyages. It was also a drink that didn't spoil in the heat, making it perfect for tropical climates. And we all know that a little lime goes a long way in terms of flavor.
Served in a martini glass, this timeless cocktail is an elegant drink for many occasions. The original recipe calls for you to shake it all up with some ice first before serving on the rocks, but it also works well served without ice if that's what you prefer.
Gimlet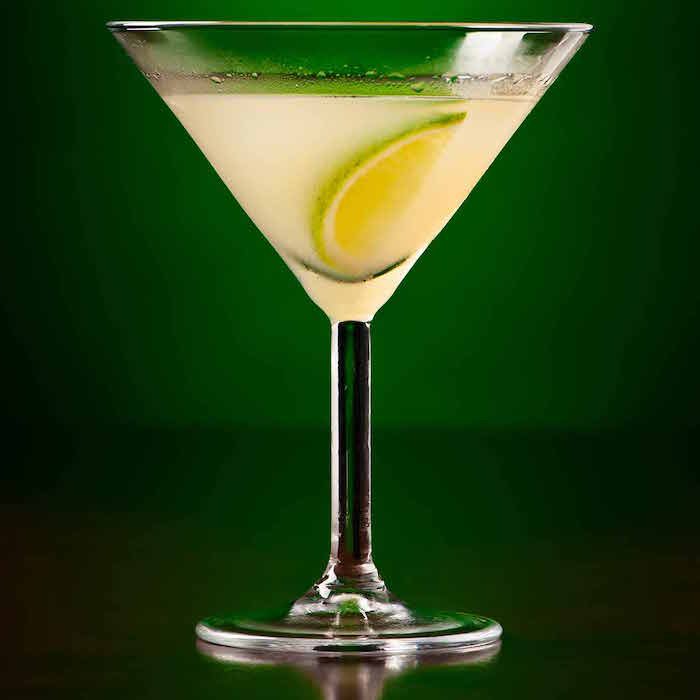 Ingredients
2 1/2 oz Gin
1/2 oz Lime Juice
1/2 oz Sugar Syrup
1 Lime
How to make it
Add all the ingredients to a shaker and fill with ice.
Shake, and strain into a chilled cocktail glass or an Old Fashioned glass filled with fresh ice.
Garnish with a lime wheel.
6. Old Fashioned
Made with whiskey, bitters, and simple syrup, this drink is the classic cocktail for liquor connoisseurs. Created around 1880, the Old Fashioned is one of the 5 basic cocktails that each bartender learns in the first week of classes.
An Old Fashioned can be enjoyed many different ways, but the drink is traditionally served over ice without garnishes, in an Old Fashioned glass. Modern mixologists often serve the drink with orange peel for a garnish, but the basic drink does not call for it.
Although the original recipe uses a sugar cube for the sweetener, this version is made with simple syrup. This makes the drink significantly easier to blend well (no undissolved bits of sugar left in the bottom!) and it also allows you to control the sweetness to your preference.
If you're looking for a delicious, classic cocktail to enjoy, look no further than an Old Fashioned!
7. Long Island Iced Tea
If you are looking for a drink to knock your socks off, this is the one for you. Made with three types of spirits, coke, and simple syrup, this Long Island Iced Tea (or LIT for short), is not for light drinkers.
A spin on the traditional 'Old Man Bishop' cocktail, the LIT was first created by Robert Butt as an entry into a contest held on Long Island for a new cocktail recipe. There have been many different versions of the drink made since its inception, but each always features multiple types of spirits, a bitter of a sort, and sugar.
Enjoy a LIT on a night out with friends, but be sure to drink this cocktail responsibly as it has a higher alcohol content than any others on this list.