Today, we're talking all about the delectable and zesty world of cocktails with yellow chartreuse. Whether you've never before had a sip of this sweet and herbal delight or you'd consider yourself a master mixologist, this post has something for everyone.
Read on to discover the tastiest concoctions put together with yellow chartreuse. Get ready to thirst, shake, and experiment your way to a flavor explosion!
1. Alaska Cocktail
The Alaska Cocktail is a classic chartreuse-based drink that has been around for decades. It features a bright, citrusy flavor that comes from its combination of yellow chartreuse, gin, orange bitters, and lemon peel. The lemon peel is added at the end for a nice aroma and a subtle kick. This cocktail is perfect for summer days, thanks to its refreshing taste and eye-catching colors.
Yellow Chartreuse, the liqueur used in the Alaska Cocktail, is curious in that it is only made by the Carthusian monks in the Chartreuse Mountains of France. Its taste is a well-balanced blend of sweet and herbal flavors, making it a mainstay in many classic cocktails. When combined with gin, orange bitters, and a bit of lemon peel, Yellow Chartreuse adds a bright and sweet complexity to the drink.
The Alaska Cocktail is a simple yet delicious beverage that is sure to be a hit at any gathering. Its flavor is delightful and its colors are inviting. If you're looking for a tasty cocktail that features the signature taste of Yellow Chartreuse, the Alaska Cocktail is a superb choice.
Alaska Cocktail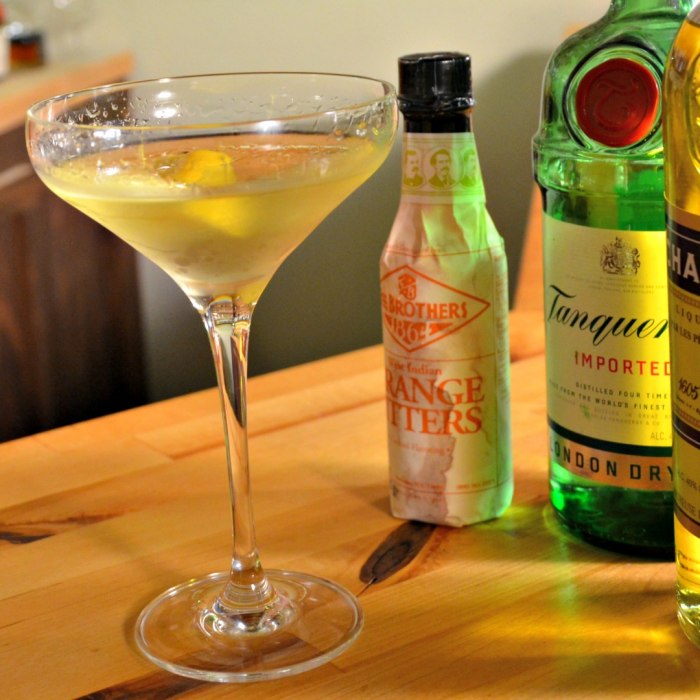 Ingredients
2 dashes Orange bitters
1 1/2 oz Gin
3/4 oz Yellow Chartreuse
Twist of Lemon peel
How to make it
Stir all ingredients with ice, strain contents into a cocktail glass.
Drop in a twist of lemon and serve.
2. Jewel of the Nile
The Jewel Of The Nile is an exotic cocktail made with a mix of exciting ingredients, including Gin, Green Chartreuse, and Yellow Chartreuse. The combination of juniper notes from the gin, herbal complexity from the Green Chartreuse, and spice from the Yellow Chartreuse creates a truly unique flavor sensation.
This cocktail is perfect for those looking for an unusual twist for a special occasion. The Yellow Chartreuse provides a beautiful golden hue and delicious sweetness to the drink, while the Green Chartreuse adds a complex herbal profile that makes this cocktail particularly interesting to those looking to explore a unique flavor range. The Jewel Of The Nile is a great choice for any fans of yellow chartreuse, as the herbal and spicy notes create an intriguing flavor that's sure to please.
Jewel Of The Nile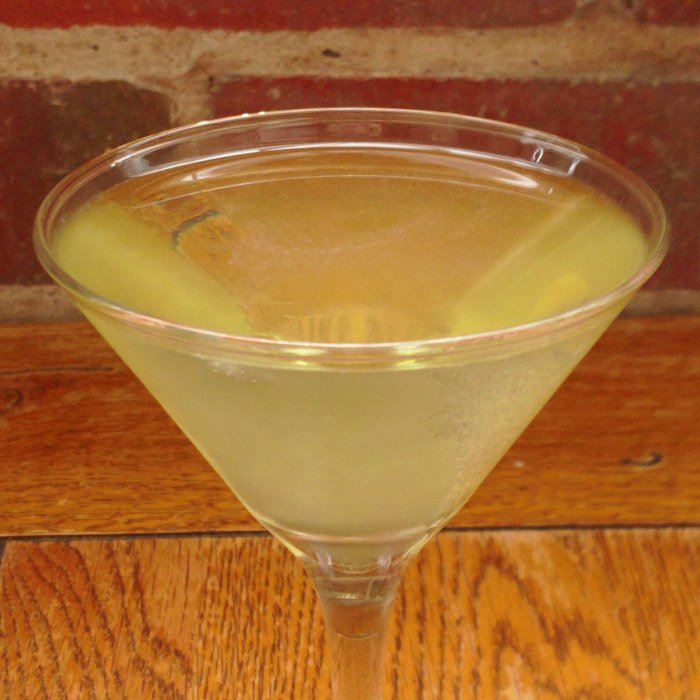 Ingredients
1 1/2 oz Gin
1/2 oz Green Chartreuse
1/2 oz Yellow Chartreuse
How to make it
In a mixing glass half-filled with ice cubes, combine all of the ingredients.
Stir well.
Strain into a cocktail glass.
3. Bee's Knees
Next up, we have Bee's Knees. The Bee's Knees is the perfect cocktail for a bright, sunny day! Its vibrant yellow color comes from a combination of Gin, freshly-squeezed lemon juice, and one special ingredient: yellow Chartreuse! The golden-hued brightness of the yellow Chartreuse adds a fun flair to the tartness of the lemon and the boldness of the Gin!
To make your own Bee's Knees cocktail, shake equal parts Gin, freshly-squeezed lemon juice, and yellow Chartreuse over ice and strain into a chilled martini glass. Then garnish with a twist of lemon zest to bring a bit of zing to your day (and your drink!) Enjoy!
4. Yellow Bloom
Of course I had to include Yellow Bloom. The Yellow Bloom is a beautiful, shimmering, honey golden colored cocktail that promises a journey of sweet and tart flavors! To make this delicious drink, add 1 ounce of yellow Chartreuse, 1 ounce of pineapple juice, 2 ounces of vodka, and half an ounce of simple syrup to a shaker filled with ice.
Shake vigorously and pour into a rocks glass filled with fresh ice. Let it bloom with a splash of sparkling soda and garnish with a few pineapple slices. Enjoy!
5. French 75
Moving on, I couldn't forget French 75. The French 75 is a cocktail of bubbly delight that is the picture of exuberance in a glass. It is a combination of crisp and light French Champagne, vivid yellow Chartreuse, tart lemon juice, and sweet simple syrup that come together to create a truly delicious experience. With every sip, you get a taste of the flavorsome effervescence that's sure to tantalize your taste buds.
To make this cocktail, start by adding two ounces of Champagne to a shaker filled with ice. Then add a half ounce each of yellow Chartreuse, simple syrup, and fresh lemon juice. Shake it vigorously, strain the mixture into a chilled coupe glass and enjoy the delightful zest of the bubbly French 75!
6. Chartreuse Swizzle
Ah, the Chartreuse Swizzle, a delightful drink from the land of La Belle France! This simple yet sophisticated cocktail takes the best of four liquors and juices, plus a dash of gomme syrup for balance, and zings it together with a twinkle in its eye.
Start by shaking some yellow Chartreuse, lime juice, and gomme syrup with ice in a shaker. Strain into a highball glass filled with crushed ice. Top the drink with club soda and a healthy splash of cognac. Finally, stir with a swizzle stick, garnish with a lime wheel, and enjoy!
The Chartreuse Swizzle gives an unexpected, but wonderfully harmonious, combination of ingredients that will make your taste buds swoon with happiness. It's a delicious mix of tart, herbal, and toasty notes that is sure to be a hit. So what are you waiting for? Let's get swizzling!
7. Yellow Daisy
Last but not least: Yellow Daisy. The Yellow Daisy cocktail is a sweet and sour concoction that will make you smile! A great option for anyone looking for a warm, sunshine-filled beverage, this cocktail expertly blends the herbal sweetness of yellow Chartreuse, the tart flavors of lemon juice and the refreshing complexity of orange Curaçao.
To make a Yellow Daisy, simply fill a shaker with cracked ice. Add 1 ½ ounces of yellow Chartreuse, 1 ounce of orange Curaçao, ¾ ounces of freshly squeezed lemon juice and ¾ ounces of simple syrup. Shake vigorously for about 20 seconds until the outside of the shaker feels cold to the touch. Strain the contents into a highball glass filled with cracked ice and garnish with a Maraschino cherry or a lemon wedge. Now your Yellow Daisy is ready to enjoy!
In Summary
So, if you're looking for something a bit different for your next round of cocktails, why not go for yellow chartreuse? It's a sweet, slightly herbal liqueur that adds a smooth and mellow layer of flavor to your favorite drinks, making them perfect for any special occasion. So, grab some friends and a bottle of yellow chartreuse, and get ready to sip some sensational drinks! Cheers!