I'm thirsty. Are you? It's hot outside, and I think it's time to cool down with some drinks. But not just any drinks—your options are endless when you're in the mood for something tropical!
And since summer is right around the corner, it seems like a good time to get ready. If you've been looking for some inspiration on what to serve at your next party or gathering, then this list of tropical drinks is perfect for you.
And the best part? They're all non-alcoholic, so guests of all ages can enjoy them, and nobody has to worry about an unexpected hangover the next day. Just grab some cocktail umbrellas and you're reading to enjoy the sun. Cheers!
Aloha Fruit Punch
This is a great drink for summertime gatherings. With pineapple juice, guava juice, and ginger, this zingy cocktail should definitely be on your list of drinks to try. It's perfect for sipping while hanging out by the pool or spending time at the beach.
Aloha Fruit punch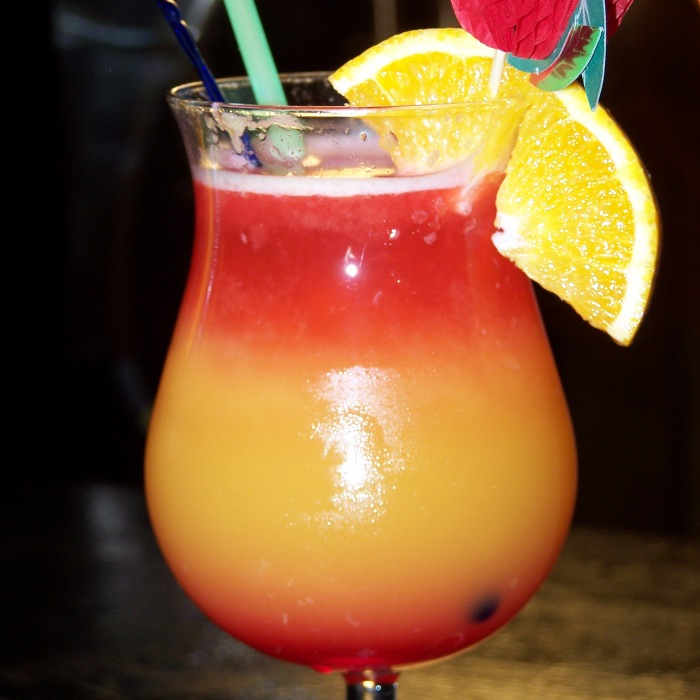 Ingredients
3/4 cup Water
2 tsp Ginger
2 cups Guava juice
1 1/2 tblsp Lemon juice
1 1/2 cup Pineapple
1 cup Sugar
3-4 cups Pineapple juice
How to make it
Add 1/4 cup water to ginger root.
Boil 3 minutes.
Strain.
Add the liquid to the guava, lemon and pineapple juices.
Make a syrup of sugar and remaining water.
Cool.
Combine with juices and pineapple.
Chill throroughly.
Apello
You might not think apple and orange go together, but prepare to be proven wrong: the flavors are actually quite complementary. That being said, I recommend pairing this drink with a light summer meal to keep things balanced. This is also one for the grapefruit lovers out there.
Apello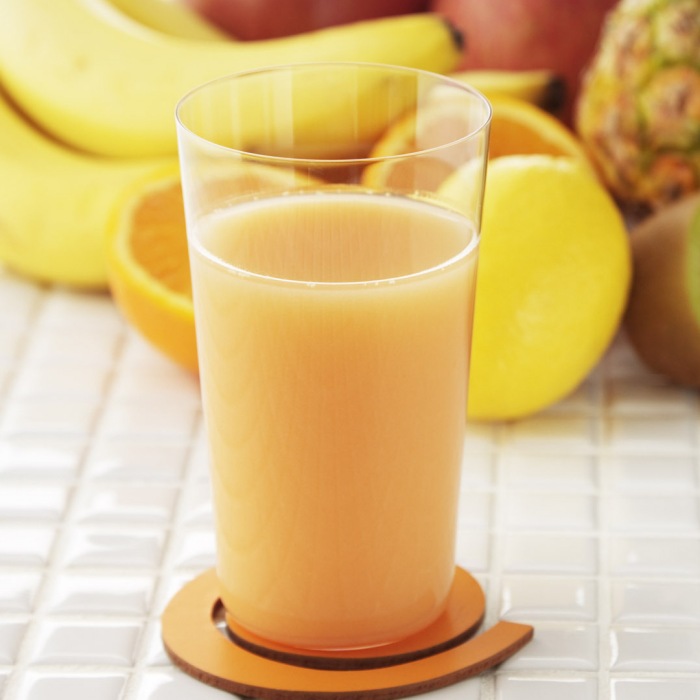 Ingredients
4 cl Orange juice
3 cl Grapefruit juice
1 cl Apple juice
1 Maraschino cherry
How to make it
Stirr.
Grnish with maraschino cherry.
Banana Cantaloupe Smoothie
What could be simpler than this smoothie? This recipe only calls for two ingredients, so you can whip it up pretty quickly. Blend one peeled banana with cantaloupe juice. That's it! Use frozen banana and throw in a few ice cubes if you want to keep things ice-cold and refreshing.
Banana Cantaloupe Smoothie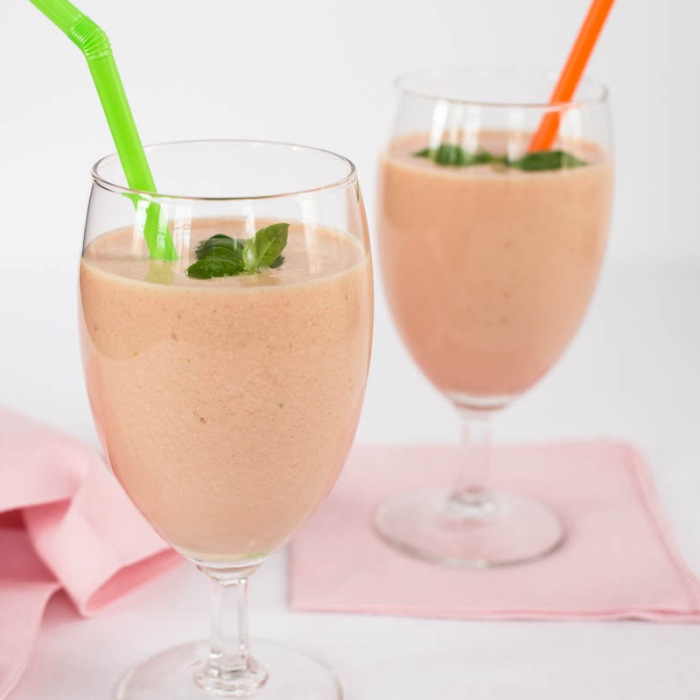 Ingredients
Juice of 1/2 Cantaloupe
1 Banana
How to make it
Juice cantaloupe, pour juice into blender, add banana, and liquify.
Banana Strawberry Shake Daiquiri
Don't be fooled by the name: this daiquiri contains no alcohol. Instead, you'll get a touch of sweetness from strawberries and banana, plus there's apple juice in there for extra flavor. You can use fresh or frozen fruit in this recipe, but aim for the latter if you want that smoothie-like consistency.
Banana Strawberry Shake Daiquiri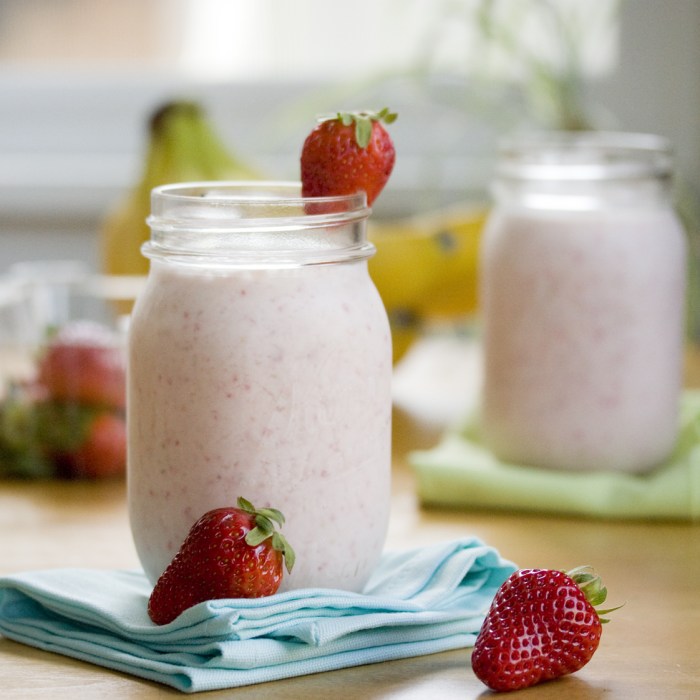 Ingredients
1/2 lb frozen Strawberries
1 frozen Banana
2 cups fresh Apple juice
How to make it
Blend all together in a blender until smooth.
Bora Bora
This drink will be sure to please anyone—light, refreshing and delicious all at once! With just four ingredients (pineapple juice, passion fruit, lemon juice and grenadine), it couldn't be easier to mix up, and it's sure to be a hit at your next party.
Bora Bora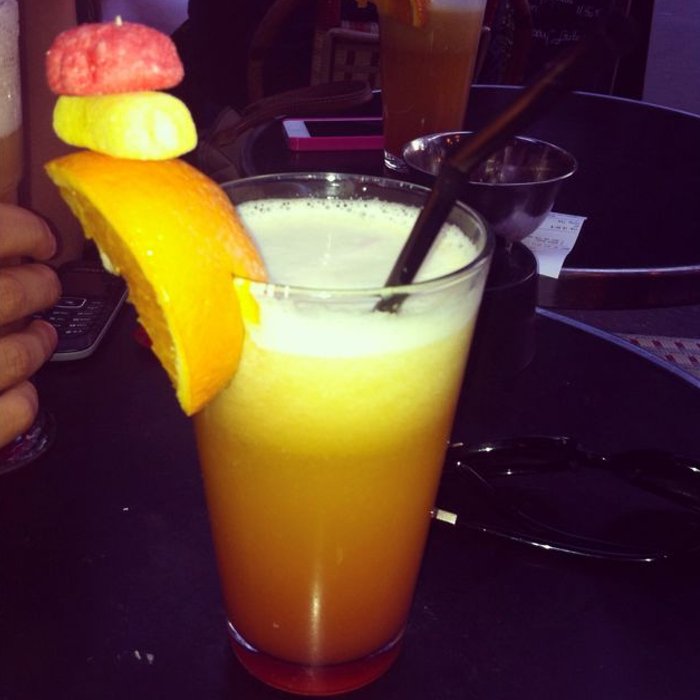 Ingredients
10 cl Pineapple juice
6 cl Passion fruit juice
1 cl Lemon juice
1 cl Grenadine
How to make it
Prepare in a blender or shaker, serve in a highball glass on the rocks.
Garnish with 1 slice of pineapple and one cherry.
Fruit Shake
You can't go wrong with fruit. And the nice thing about this recipe is that you can incorporate any fruit you have available. It's perfect for using up overripe fruit before it goes bad. And, of course, that's what makes this recipe perfect for summertime sipping. Simply blend your fruit of choice, banana, yogurt, orange juice, and ice cubes together for a delicious drink.
Fruit Shake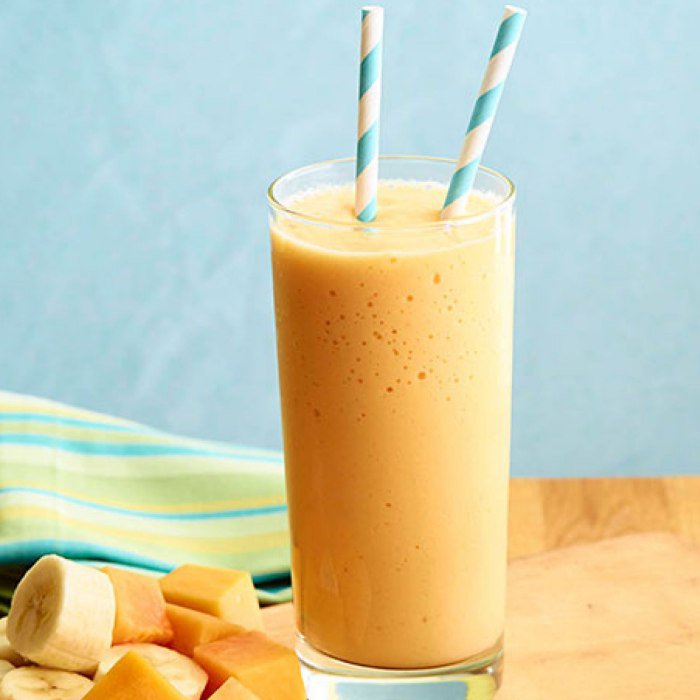 Ingredients
1 cup fruit Yoghurt
1 Banana
4 oz frozen Orange juice
1/2 piece textural Fruit
6 Ice
How to make it
Blend til smooth.
Grape Lemon Pineapple Smoothie
For a taste of the tropics, look no further. You'll need grapes, pineapple, lemon juice and ice cubes for this recipe. This is a nice choice if you're looking for a drink with a bit of tartness thanks to the lemon.
Grape lemon pineapple Smoothie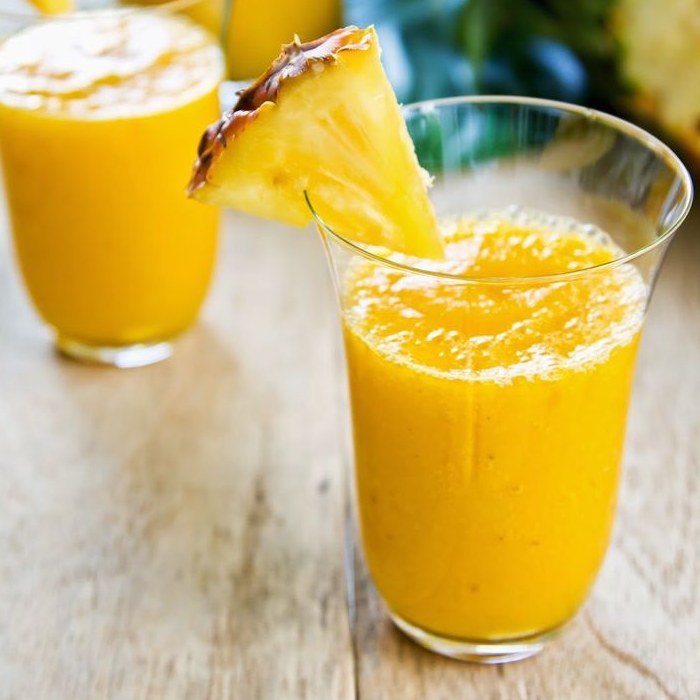 Ingredients
1 cup Grapes
1/4 Lemon
1/2 Pineapple
How to make it
Throw everything into a blender and liquify.
Kiwi Papaya Smoothie
Another super simple recipe to try, this smoothie features kiwifruit and papaya. A couple of ice cubes in there won't hurt either! It's also possible to add milk or yogurt for a creamier smoothie, however if you want a vegan version of this drink, then opt for soy milk instead.
Kiwi Papaya Smoothie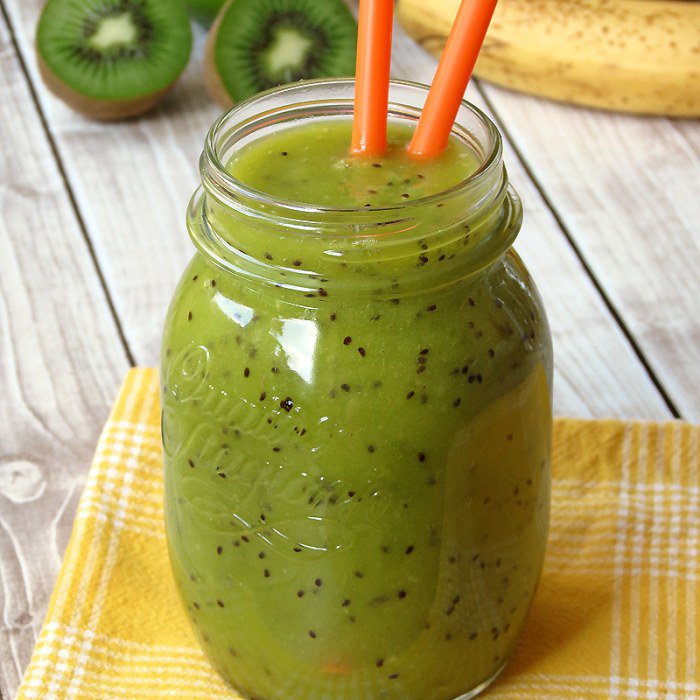 Ingredients
How to make it
Throw everything into a blender and liquify.
Mango Lassi
We're traveling to India for this next drink! Spiced with cumin, cardamom and cinnamon, this is the perfect drink for any time of day. You can drink it by itself or pair it with a light meal to start things off—the flavors are delicious and refreshing.
Lassi - Mango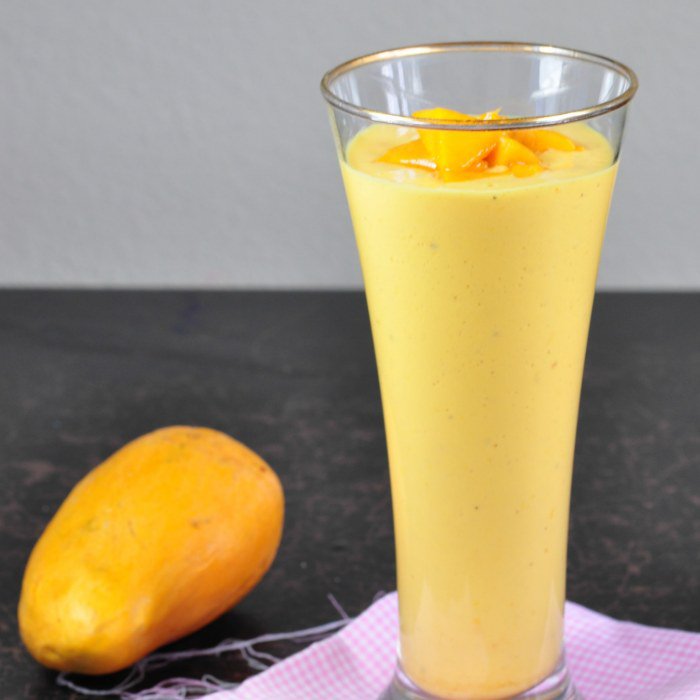 Ingredients
2 Mango
2 cups Yoghurt
1/2 cup Sugar
1 cup iced Water
How to make it
Put it all in a blender and pour over crushed ice.
You can also use other fruits like strawberries and bananas.
Mango Orange Smoothie
Another two-ingredient smoothie recipe, this drink is as easy as it gets. The flavor here will depend on the ripeness of your mangoes and oranges, so try to use nice and ripe fruit for this one.
Mango Orange Smoothie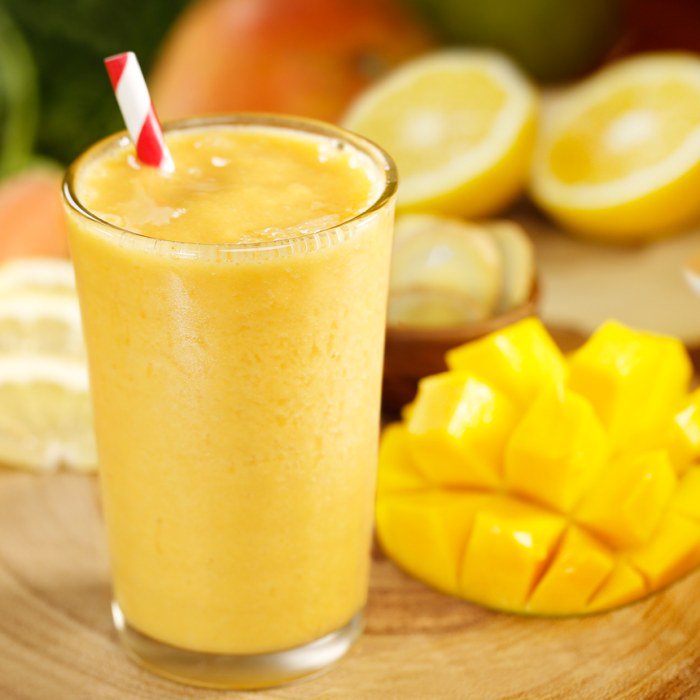 Ingredients
How to make it
Throw everything into a blender and liquify.
Sweet Bananas
A grownup take on the banana milkshake, this drink contains no alcohol, but the flavor is enhanced with a little bit of honey. The result is a creamy drink that's just perfect for sipping during lazy summer afternoons.
Sweet Bananas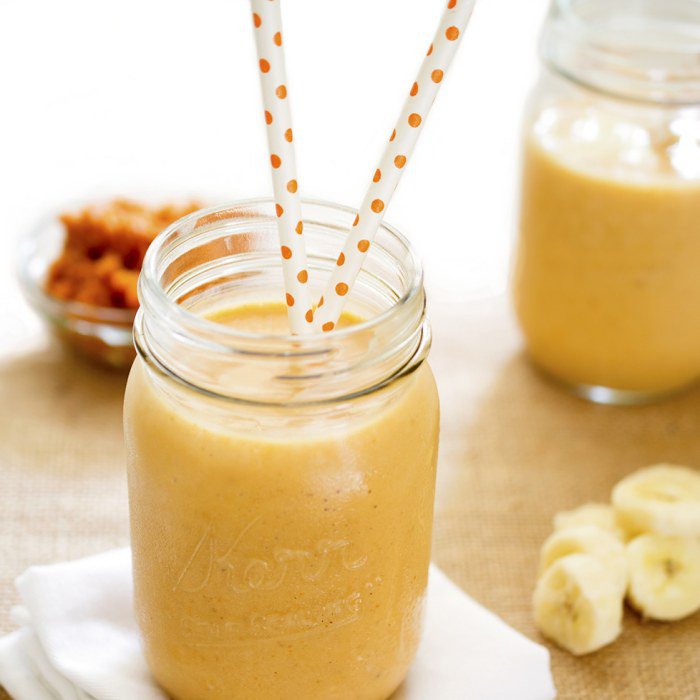 Ingredients
2 cups Milk
1 Banana
1 tblsp Honey
How to make it
Place all ingredients in the blender jar - cover and whiz on medium speed until well blended.
Pour in one tall, 2 medium or 3 small glasses and drink up.
It's Time to Get Blending
Made with all the most refreshing ingredients and deliciously fresh fruit, these drinks are perfect for poolside sipping or enjoying on the beach. And with recipes that include kiwi, mango, papaya and more, there's something for everyone in this list. So put away the liquor cabinet and reach for one of these delicious alcohol-free drinks instead!